Sustainable Farming
Sustainable Farming Index | Virtual Library | Magazine Rack
Search | Ecological Solutions Roundtable
---
1988 REAP: GUIDE TO ECONOMICAL WEED CONTROL
By Roger Samson
Ecological weed management rules
The foundation of an effective and economical weed management system comes not from the techniques that used to destroy weeds but from the farming methods which encourage their growth. Where weeds are considered undesirable a way must be found to replace the important role they play in stabilizing the soil. The presence of weeds is also commonly used as an indication of problems. For instance, where there are large quantities of them there is probably poor soil quality, poor ground cover and a fertility problem (is lack of fertility or excessive fertility supplied by fertilizers or manure).
In short, the key to reducing weed control costs is to enhance crop growth, soil filth and ground cover.
To better explain these techniques and how they work we will use major agronomic crops and demonstrate how some of these methods can be used to lower
costs while improving weed control and crop yields. REAP's on farm research program has concentrated on crop and weed management systems in corn soybeans and spring and winter cereals for the past three cropping seasons in Ontario. In 1989 ant 1990 we will be expanding to include potatoes and some market vegetables in programs in Que bee and the Maritimes.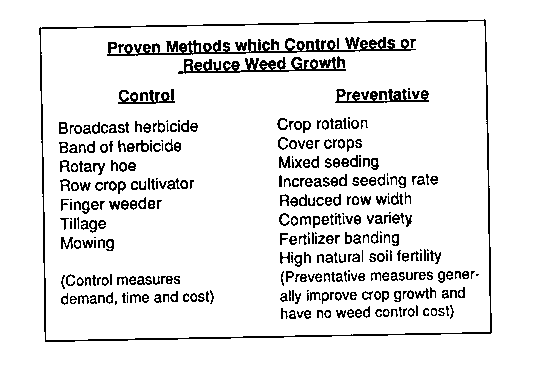 1. Weeds are nature's restorative. They protect the soil from erosion. To reduce weed populations, farming methods which increase ground cover, soil filth and nutrient cycling must be practiced (ie. use of hay and/or cover crops is essential).
2. The self thinning rule. Nature protects itself from the dominance of any one species through thinning mechanisms (is insects, diseases, weeds, nematodes, inadequate nutrient release from the soil). In order not to reduce crop yields by triggering thinning mechanisms, it is necessary to rotate crops between unlike species, plant mixed seedings and keep the hay stands as short as possible
"Weed and feed" is a great idea in crop and weed management but methods need to be changed from those presently promoted (is. herbicide impregnated dry fertilizer, herbicides tank-mixed with 28% solution in a pre-emergence application or the usual homeowner lawn special).
Much of REAP's research is involved with evaluating new weed and feed systems. Mechanical weed control measures are used to remove weeds and then cover crops are sown which compete successfully with new weed growth while building soil fertility.
Several examples of this concept are as follows:
Cultivation after cereal harvest followed by seeding of buckwheat or oilseed radish
Fall cultivation and seeding of winter rye before soybeans
Interseeding ryegrass in corn on final cultivation
Blind harrowing in spring cereals and seeding of red clover
Rotary hoeing or finger weeding of spring cereals and seeding crimson clover
Rotary hoeing of winter wheat followed by drilling in hairy vetch
In interseeded cover crop systems the main purpose is to remove the weeds which compete with the crop and then interseed a forage species after the period when weeds no longer reduce crop yield. For example, in corn, weed flushes which occur six weeks after planting will not interfere with crop yield. Therefore, final cultivation and interseeding can be done five weeks after planting without a reduction in corn yield (since it takes approximately one week for the ryegrass or new weed seedlings to develop).
This procedure helps to reduce late flushes of weeds but more importantly enables the cover crop to get established prior to the removal of the main crop (ie. the first crop to appear is usually the winner in the race to cover the soil after harvest).
One of the methods being employed today to substantially reduce herbicide use in corn is to band apply herbicides when planting or cultivating row crops. A frequent technique for application is to use a spray nozzle mounted behind the press wheels when planting. Switching to a one year corn rotation can simplify this since the insecticide banding operation is replaced by the herbicide banding operation when planting. In 1986 and 1987, REAP evaluated 15 cm. (6 in.) herbicide bands and 2 row crop cultivations against three other systems of weed control on Lloyd Kalbtleisch's farm in Tavistock, Ontario.
In 1986 the check treatment receiving no herbicides or cultivation produced a yield of 7.72 t/ha (123 bu/acre), which was 16% less than that of the highest yielding treatment. Several reasons for this relatively small reduction in crop yield were: 1) the fertilizer banding at planting which gave an advantage to the crop (not weeds); 2) the use of a fast emerging variety (Pioneer 3790) planted at 70,000 plants/ ha (28,000 plants/acre) and 3) the fact that the field had been in rotation from a mixed grain crop seeded with red clover plowdown.
Weed control and crop yield were essentially the same in the herbicide banding - two cultivation system versus the herbicide overall. However, the over the row herbicide banding system was more economical, primarily because herbicide costs were reduced by 80%. The results of this trial agree with nearly all research trials following corn, soybeans or cereals which show that herbicide banding and cultivation is the most economical weed control system in corn.
In 1987, the economics of corn weed control systems were again compared using the same techniques. The trial was located on a field which had been seeded to alfalfa for two previous seasons and the herbicides used were Atrazine and Pardner because of the presence of some triazine resistant weeds in the field.
Record corn yields were achieved in Southern Ontario in 1987 and our trials were outstanding producing yields up to 13.06 V ha or 208 bu/acre. The treatment receiving no weed control yielded only 5% less than that of the system providing the best weed control. The most cost effective weed control system was provided by the use of two rowcrop cultivations which produced corn yields of 13.00 t/ha or 207 bu/acre. This system was also found to be the most economical weed central mothers when corn followed alfalfa in U.S. studies.
The short term alfalfa stand reduces annual weed populations, enhances the natural fertility of the soil and improves corn growth so that corn acts as a better competitor with weeds (particularly if a competitive variety is sown at a high density and the fertilizer is banded giving corn the advantage). Where alfalfa has not been the previous crop several other possible methods are being used by farmers to avoid the need for herbicide banding. One method involves using a rotary hoe at pre-emergent and early post-emergent corn stages since weeds are best killed when "in the white" or less than 1/4" in height. Disc hilling can improve in row weed control by covering weeds in the row when corn is at later growth stages. The finger weeder (discussed in the cereal section) is also being used at a wide range of growth stages in corn in Europe. However, no significant research has been performed on any of these methods in North America.
In 1988, we examined the effect of annual and perennial ryegrass cultivars on biomass production and weed suppression. The ryegrass was interseeded in corn at the final cultivation. Average performance of the annual and perennial cultivars is summarized below. There was very little difference in growth between annual ryegrass cultivars. However, Ellett perennial ryegrass was superior to the other three perennial varieties. Both the Ellett perennial ryegrass and the annual ryegrasses reduced weed biomass by about 50% at both locations but had no effect on corn yield. The weeds most affected by the interseedings were foxtail and quackgrass.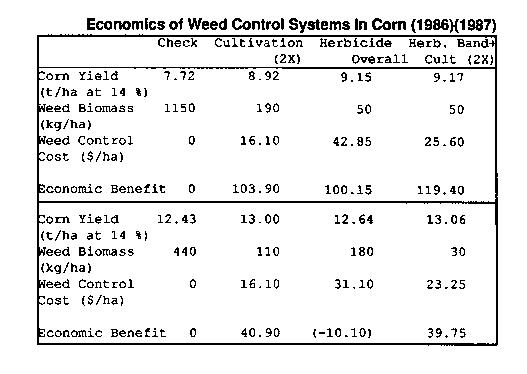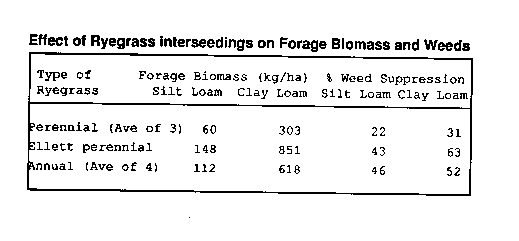 Herbicide banding and cultivation has also been used to provide effective weed control, at a relatively low cost, in 75 cm (30") soybeans. However, in Ontario and Quebec higher yields can generally be obtained if weeds are controlled without herbicides (since soybeans are generally more herbicide sensitive than corn) and row widths are narrowed. Research performed in the northern U.S. suggests that weed control is optimized at row widths of approximately 50 cm. (20") which allows time for at least one cultivation. Most of the crop yield response to narrow rows can also be obtained at this row width.
Soybean research trials (U.S. studies) in row widths of 75 cm (30") or more which have used 2 rotary hoeings combined with 2 row crop cultivations have provided more economical weed control than herbicide only or herbicide plus cultivation.
This system has excellent potential under Canadian conditions particularly if plant competition is increased by reducing row width. Harry Wilhelm (a REAP cooperator) from Tavistock, Ontario has been using an intermediate row width system (53 cm or 21 " rows) for the past 8 years by plugging two of every three runs in the grain drill. The crops are rotary hoed twice and cultivated once (soybeans) or twice (white beans). This system provides Harry with outstanding weed control in soybeans and above average weed control in white beans at approximately one third the cost of standard herbicide programs.
No-Till Mow-Kill Soybeans
REAP is currently evaluating a system of using fall rye as a weed control system in no-till planted solid seeded soybeans. Soybeans are no-till drilled into standing rye that has headed and then the rye is subsequently mowed. The rye provides an allelopathic mulch (releasing selectively toxic chemicals) which effectively control weeds. The system was developed by an Illinois farmer, Mike Strohm, (see Farming Forever REAP newsletter Fall, 1988) which has been using it for the past foul years. A preliminary REAP trial clearly demonstrates the potential of this system versus tilled systems. The mow-kill system had very low weed cover (3 %, whereas in the tilled systems it was much higher. The plower systems appeared to have a greater potential for weed growth than those which were disked.
In a separate trial we evaluated the time of mowing to determine if later mowing would reduce rye regrowth. Some plots were also harvested for forage prior to soybean seeding. Rye regrowth appeared to be reduced somewhat by later mowing. However, the soybean yield was reduced at the later date due to a lack of moisture caused by the drought.
We are presently screening eight different rye varieties for weed suppression potential and for reduced regrowth so that timely planting of no-till soybeans can occur without using grass herbicides. Some rye regrowth may not hurt soybean yields. Our present recommendations on this system are preliminary. We believe that the best way to manage at present the system is to plant the rye as early as possible in the fall (is. Sept. 1 to promote earlier heading and flowering in the spring). A tall soybean variety should be chosen as the soybeans tend to be somewhat shorter than conventionally planted beans. The soybeans should be no-till drilled into the standing rye using a ripple courter to enable good soil penetration. Mowing should occur immediately after soybean planting.
Cover Crops Suppress Quack Grass
The rye is not only effective in reducing annual weed growth but in reducing quack grass development prior to soybean planting. This is largely due to its large root mass and ability to utilize residual soil nitrogen. Interseeding ryegrass in corn can have the result if done in a corn-soybean sequence.
It should also be noted that several trials have indicated that excessive nitrogen, or excessive manure applications, on corn in the year prior to the soybean crop, increase annual grass growth in soybeans. The grass cover crops could also possibly reduce growth of annual weeds by lowering soil nitrogen levels.
In a corn-soybean sequence better nitrogen management can be improved by using techniques such as band applications of nitrogen in corn followed by use of interseeded ryegrass or fall seeded rye. This will not only reduce many of our annual and perennial grass problems in soybeans but also reduce nitrate leaching to ground water supplies.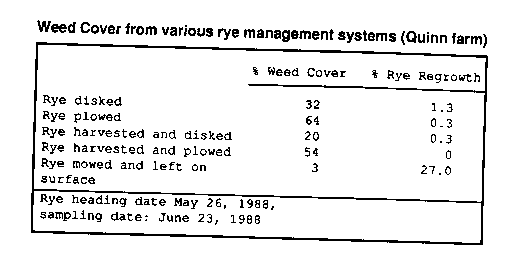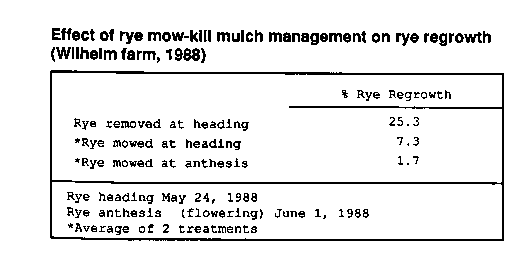 Cereal crops by themselves are fairly competitive with weeds. A general ranking of cereals in competitiveness to weeds is listed below:
Winter rye Most Competitive
Winter triticale
Winter wheat
Spring barley
Spring wheat Least Competitive and oats
Agressive winter cereals such as winter rye and winter triticale can be useful in helping to control weeds on problem fields.
In cereals there is even greater concern about the spread of perennial weeds and the reproduction of annual weeds after harvest than in corn or soybeans. Two approaches can be taken, one is to interseed species such as hairy vetch or red clover for plow-down and the other to cultivate after harvest and seed a fast growing species such as oilseed radish. The decision about which system to use depends on the seriousness of the weed problems. Seeding catch crops after cultivating the quack grass will provide superior control to that achieved by interseeding systems.
Spring Cereal Weed Control Systems
One cultural method which can reduce weed populations is to undersow the cereal crops with red clover or alfalfa. We have evaluated this system for two years on clay loam soils. This past year we also included an evaluation of blind harrowing with and without the seeding of cover crops. The blind harrowing is performed by dragging a chain harrow lightly over the ground immediately prior to grain emergence.
Neither interseedings, blind harrowing or herbicide had any significant influence on grain yield in the studies. The major reason for the different response of cover crops was that 1986 was a wetter than average year and 1988 was a drought year (clover is drought susceptible and alfalfa establishes poorly under wet conditions). The interseeding systems were effective in reducing late germinating weeds but not aggressive early weeds such as mustard. After harvest, the clover cover crops almost completely eliminated weeds in 1986 while alfalfa was more effective in 1988.
The double-cut red clover plowdown of 2160 kg/ha (shoot biomass) in 1986 would replace the equivalent of approximately 100 kg/ha of fertilizer N for the next corn crop. This benefit alone would be worth more than twice the cost of the red clover seed and application. In addition, farmers using clover weed control would reap the additional benefits of a clover plowdown on soil filth which can reduce tillage costs. It may also be worthwhile to consider other plowdown mixtures to improve weed suppression. Suitable mixtures could include red clover and alfalfa seeded at planting and crimson clover and red clover seeded at blind harrowing (crimson clover is not very competitive with weeds since it has an upright growth habit compared to other clovers). Forage seed can be broadcast onto the field using a three point hitch spreader while harrowing to avoid making another trip to seed the clover.
Finger Weeders
The finger weeder has been used in Europe for over ten years and is the most popular mechanical weeding device for spring and winter cereals. It consists of several sets of long thin tines. Passes are made across or along the cereal rows when the grain is in the 2-3 leaf stage. It is a rapid operation (up to 12 km/hr) which causes little damage to the crop unless the ground is too wet. The implement is versatile in that it can be used on uneven ground, and in a wide range of crops such as beans, corn or vegetables (for use in corn it can be mounted with sweeps). The tine spacing is very important a 4.1 cm spacing should be used on the Rabewerk finger weeder. In 1989, we will be evaluating the finger weeder and rotary hoe as well as the performance of interseedings of crimson clover and hairy vetch at a later growth stage in spring cereals.
Oilseed Radish After Harvest
After spring cereal harvest, cultivation followed by the seeding of oilseed radish can effectively reduce the growth of quackgrass and reproduction of annual weeds. In 1988, we found an average reduction in weed growth of approximately 95 % from this cultivation and oilseed radish seeding system. Competition from the covercropwas increased slightly by applying manure prior to oilseed radish seeding (see table below).
These results are similar to a three year study done in England which found that cultivation after harvest, followed by seeding of a Brassica reduced shoot growth of quack grass by 93 %. For optimum results it might be best to make two passes, approximately ten to fifteen days apart. This will reduce fall cereal regrowth and remove quack grass rhizomes prior to oilseed radish seeding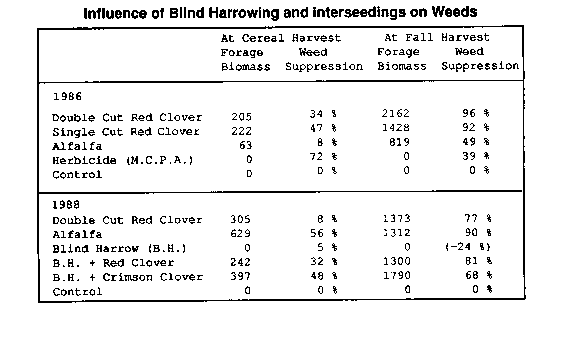 WINTER CEREALS
As previously mentioned, winter cereals are generally very competitive and seldom require weed control to obtain optimal yields in Eastern Canada. If weeds are a problem, finger weeding or rotary hoeing can be used to reduce weed growth. Last year's trials with red clover interseedings in wheat produced results similar to those achieved with spring cereals (approximately a 40 % reduction). Of greater importance is weed reproduction in spring cereals after harvest, . The table below shows results of several different interseedings and after harvest treatments on weed control.
Of the interseeded treatments hairy vetch provided the best competition with weeds. Cultivation followed by fall sown catch crops of buckwheat and oilseed radish almost completely eliminated weeds. Round-up was not very effective since many of the weeds in the trial were annuals They reached maturity prior to the optimal period for quack grass control.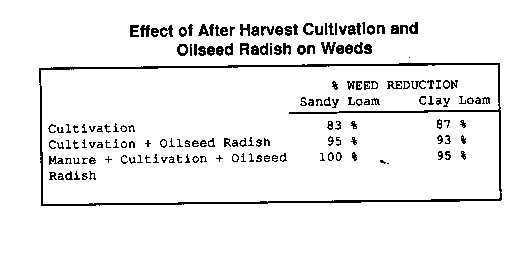 One of the simplest and most cost effective means of establishing a forage crop in the seeding year is to use a cover crop of spring grain and harvest it as silage at an early heading stage. For dairy operations, earlier cutting or adding peas to the mixture can improve the protein content of the silage. This method uses weeds in the cereal crop as a forage before the weed seed matures, and ensures an excellent forage stand because of early companion crop removal. For underseeding fields destined for grain, it is best to reduce competition with the establishing crop by either reducing the seeding rate of the nurse crop by 50% or planting it 14" rows.
Practising good management that promotes thick, healthy forage stands, good winter survival and vigorous regrowth is the main means of preventing perennial weed invasion into forage crops like alfalfa.
Several key points in preventing this invasion by weeds such as dandelion and quackgrass are:
1. Keep the forage stands to a short rotation if a large proportion of the farm is in other field crops. is. 1-2 years for red clover based stands and 2-3 years for alfalfa based mixtures. This will not only improve weed control but reduce fertilizer costs. Potash requirements increase for alfalfa as the stand ages and little if any nitrogen is required for corn following plowdown of high quality alfalfa stands.
2. Seed grasses along with legumes - This increases the total forage yield and promotes alfalfa stand longevity on marginal soils (See table below). The grass utilizes nitrogen fixed by the alfalfa so that nitrogen isn't taken up by opportunistic weeds such as dandelion or quackgrass.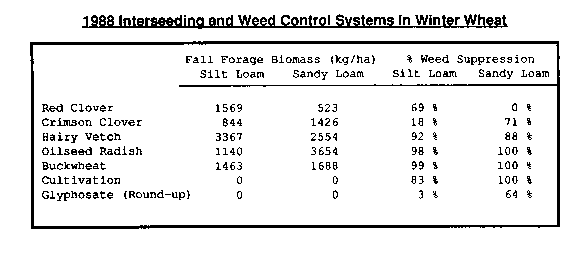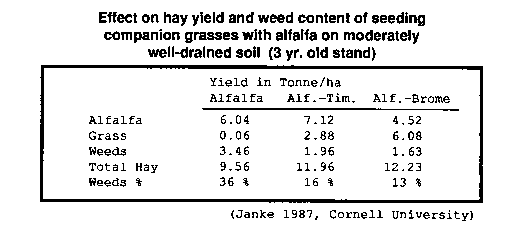 It may also be best to include several legumes in the mix particularly if the soil is marginal, is intended for pasture and haying and is to be left for a number of years.
Editor's note: We know of two finger weeder distributors in Canada
Lely Weeder:
Lely Ltd.
5353 North Service Road
Burlington, Ontario
L7L 5H7 (416) 335-3470
Rabewerke Weeder:
H. W.E. Agricultural Technology Ltd.
Heinz Evermann
P.O Box 1515 Cdn-Embrun,
Ont KoA 1W0
Copyright © 1989 REAP Canada
Reprinted with permission. All rights reserved.
---
Info Request | Services | Become EAP Member | Site Map
Give us your comments about the EAP site
---
Ecological Agriculture Projects, McGill University (Macdonald Campus), Ste-Anne-de-Bellevue, QC, H9X 3V9 Canada
Telephone: (514)-398-7771
Fax: (514)-398-7621
Email: info@eap.mcgill.ca
To report problems or otherwise comment on the structure of this site, send mail to the Webmaster