EAP Publications | Virtual Library | Magazine Rack | Search
Join the Ecological Solutions Roundtable
---
EAP Publication - 28
Sustainable Human Development
DRIVING AND RESTRAINING FORCES IN THE FOOD SYSTEM
A Submission to the World Commission on Environment and Development from Ecological Agriculture Projects (EAP), Projects pour one Agriculture Ecologique
by: Dr. Stuart B. Hill Ecological Agriculture Projects MacDonald College of McGill University
1. Most people in the world are living below their potential in sub-optimal environmental conditions while not having all their basic needs met.
2.. Consequently, the potential for sustainable human development is widespread.
3. Unfortunately, most efforts ton arcs development are unsustainable because they have involved increased dependence on finite resources, environmental impact, and inequity.
4. At the national, group, and individual levels, there is widespread evidence of fear, powerlessness, helplessness, and hopelessness, and of the associated compensatory characteristics of escalating defense spending, conspicuous consumption, violence, oppression, and of numbing and distracting activities.
5. This is a degenerative spiral which, if allowed to continue, will result ir, an exponential increase in crises as thresholds are crossed, the end point being death at the individual level and extinction at the species level.
6. The task that we face is to replace this degenerative spiral with an evolutionary spiral.
7. One approach to achieving this involves the identification of both the driving and restraining forces and of the ways to strengthen and weaken these.
8. Action is required at every level and within every sector of society, and progress at any one point will facilitate change at all other points.
9. For the individual it is most productive to be actively involved in internal (personal) and external (political) change. At every moment every individual has the option of acting to promote evolution or degeneration.
10. As access to nourishment is a major development issue, and because the expansion on industrial farming systems are consumptive, impacting, and degenerative, the driving and restraining forces affecting a transition from conventional to sustainable farming systems will be used to illustrate the above thesis.
11. In contrast to the goals of conventional food systems (productivity, profit, and power), which have no built-in limits and consequently result in resource exhaustion, environmental impact, and degradation of person and planet and are unsustainable, those of sustainable food systems (nourishment, fulfillment, justice, flexibility, evolution, and sustainability) have built-in limits, are resource conserving, environmentally supportive, developing of person and planet, and are sustainable.
12. The process of change will involve evolution relatively short time frame. at the three levels shown below.
CHANGE TO SUSTAINABLE AGRICULTURE INVOLVES EVOLUTION AT THREE LEVELS:
SHORT
· Human-Psyco-social (new attitudes/values; aware, benign vision, powerful, anonymous)
·Agroecosystem-Design and Management (structural complexity, multi-functional, diversity)
·Problem Solving-Preventive Approaches, Supporting Natural Processes (pests, soils, water, food quality, etc.)
13. The limiting factors for this change are lack of awareness, a shared benign vision, information, skills, and institutional supports.
14. In the following series of diagrams, key driving and restraining forces are identified. Although these are being considered in relation to the food system, any development proposal may be examined in the same way.
15. AGRICULTURE
Most development work is conducted by specialists viewing the problems through a very narrow window. In endeavouring to solve one problem, others are often created. Furthermore, I clear, benign and sustainable vision is usually lacking or at most, only partial.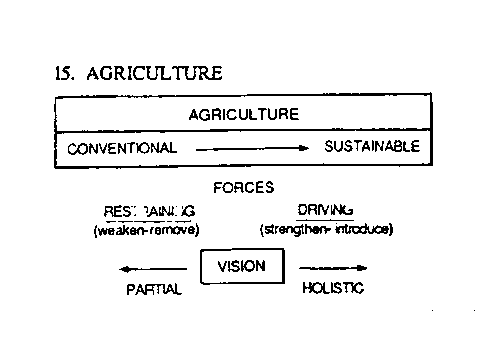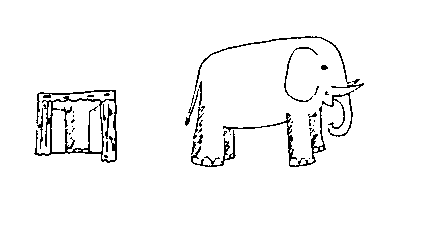 16. Most development work is conducted in a relatively short time frame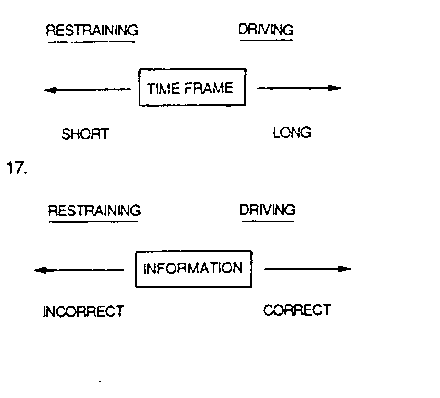 17. The information on which actions are based is often incorrect. For example, in dealing with insect pest problems, it is widely believed that most insets are pests and that pesticides are effective and relatively specific solutions. The correct information is that 0.1% of insects are pests (99.9% being beneficial or neutral with respect to human beings), that most pest insects may be effectively controlled by other insects or other organisms, and that pesticides are non-specific poisons (pests are economic entities and poisons cannot discriminate on the basis of economics! ) that tend to persist as residues in food, the environment, and our bodies, that largely miss the target, have lethal and sublethal' immediate and delayed effects on beneficials, are widely subject to misuse, and worse use is followed by re-infestation, resurgence and development of resistance in the pest and frequently the appearance of secondary pests.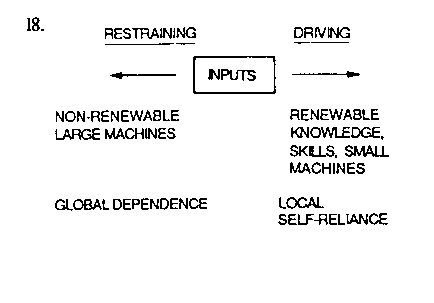 Most development projects are conducted within the narrow confines of the fossil fuel era or the mythology of the nuclear dream, both of which create unsustainable dependencies and impacts. The potential for substituting locally obtained renewable inputs is enormous.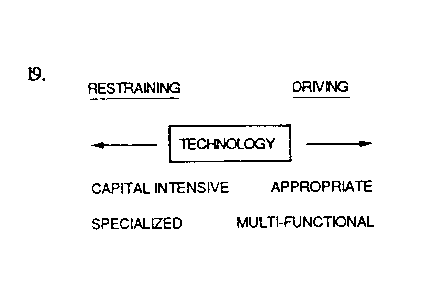 Most modern farmers are in a technological strait jacket that makes them easy victims to changes in market conditions.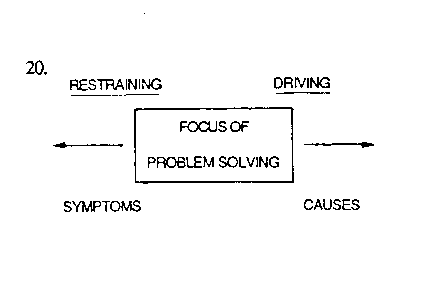 Problems are generally seen incorrectly as 'enemies' to be eliminated, rather than as indicators of causes that reside in the maldesign and malfunction of systems. Whereas all solutions to all problems have the potent al to contribute to the solving of all the problems in the world, most proposed solutions add to or pose barriers to the solution of other problems.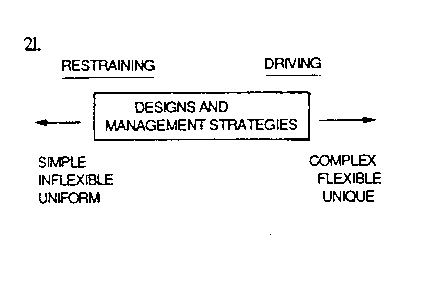 When we eliminate organisms within ecosystems, we inherit their functions. This is why pests arise when we simplify the agroecosystem so much that it cannot support the pests natural controls. Our goal should be to design agroecosystems that contain sufficient components and feedback loops to solve problems internal as they arise without relying on repeated or external interventions. This is illustrated for pest control in the following diagram: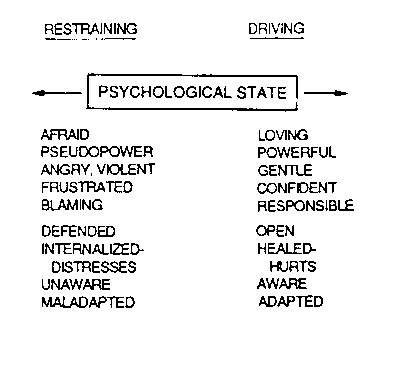 If we are serious about achieving sustainable human development we must eventually trace the problems to their root causes. These lie within individuals who, in their efforts to solve others' external problems, are unknowingly trying, at the same time, to solve their own private internal problems, which are essentially residues of past hurts and distresses. All individuals are subject to a dual inheritance of the positive expression of human potential, and of unresolved past hurts. Thus, when the child acts in a trusting way upon its true benign vision of the world, those around it who have not recovered from hurts are likely to punish, ridicule, or isolate the "naive" child, thereby passing on the hurt and conditioning the child to abandon its benign vision. In the following diagram, the choice between a degenerative or evolutionary cycle or spiral is evident. Means for breaking the degenerative spiral including the correction of misinformation, exposure to benign experiences, provision of opportunities to discharge the hurts' and of support in the process of empowerment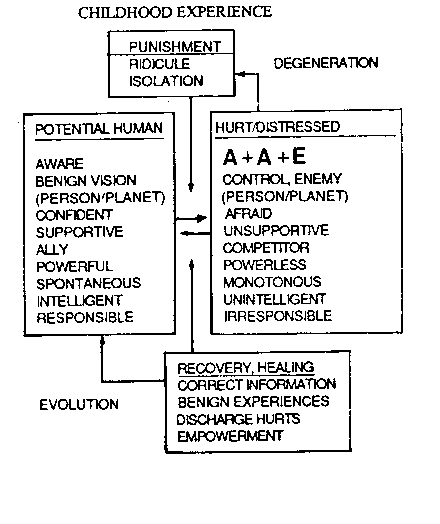 23. The outcome of the degenerative spiral is particularly evident in the approach taken to problem solving. The approaches listed below on the left are attractive partly (and mostly subconsciously) because they compensate for an individual's internal (but not necessarily acknowledged) sense of powerlessness. In contrast those on the right are more likely to be associated with the fully aware, truly powerful, benign individual.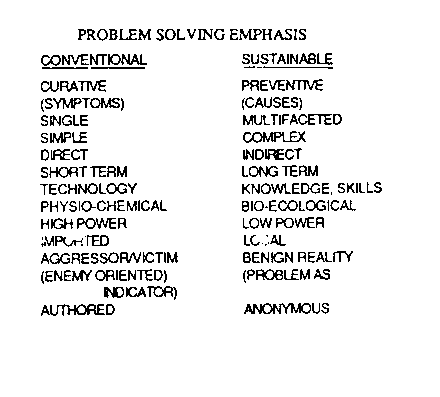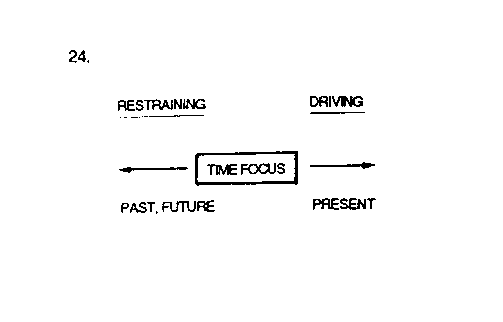 Psychological state is also evident with respect to the time focus of individuals, those who are distresed tending to have their attention out of the present, thereby making themselves less aware and less effective in their actions.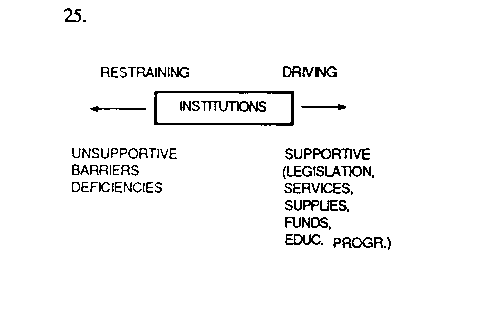 For those such as our own group, Ecological Agriculture Projects, committed to sustainable human development and constantly exposed to the widespread need for this, it can be frustrating to find that most institutions in society and to be unsupportive, defensive, and even obstructive in their efforts to maintain the status quo. Because of the widespread availability of volunteers and committed but unsupported individuals in the sustainable development area, considerable progress may be made at relatively little expense by providing support and encouragement to such individuals. In Canada, the Canadian University Service Overseas(CUSO) is a partial example of the success that can be Thieved by taking this approach. Components of the system that must be considered are indicated in the diagram below.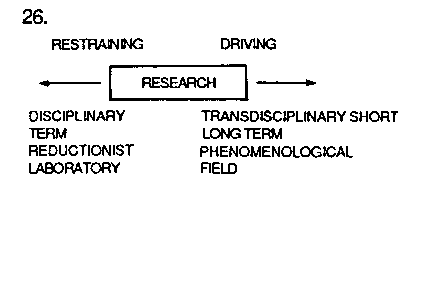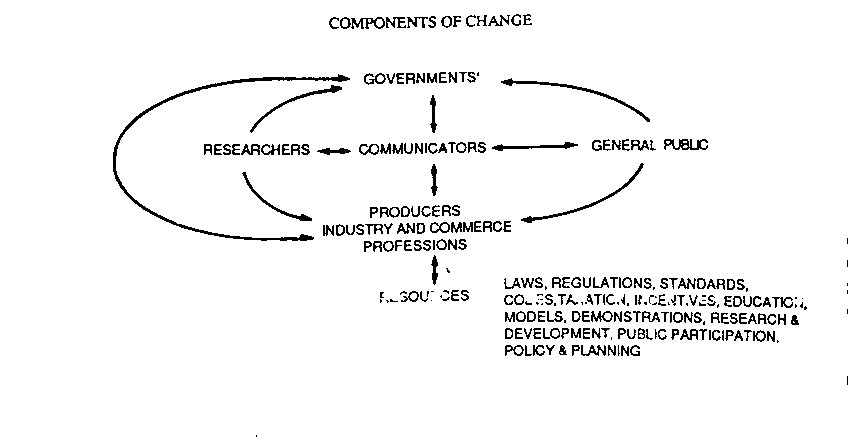 As long as research is conducted and solutions to problems are searched for within single disciplines, we may expect problems to proliferate. In contrast transdisciplinary training and research may be expected to generate unforeseen benefits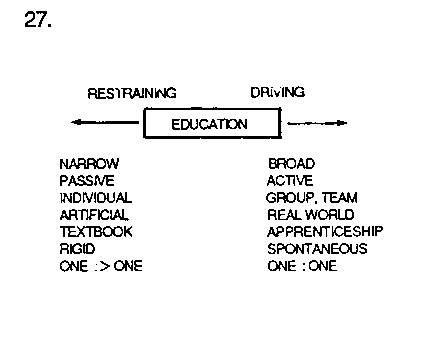 Even in the CUSO examples mentioned in 25, students are constantly confronted in the field with problems for which they have little or no information or skills to solve. More emphasis on the approaches listed above on the right would go a long way towards solving this problem.
28. In engaging in transformations from present degenerative to sustainable approaches, change agents frequently experience a perception change from "deceptive simplicity" when solutions such as pesticides for pests seem to make sense, to "confusing and paralyzing complexity" when all the factors involved become apparent and it seems unlikely that one will ever be able to manage them all, to "profound simplicity", (Closely related with De Bono's concept of "lateral thinking"), when elegant solutions appear that often involve a growing awareness of the benign nature of person and planet and that one doesn't have to control everything for positive outcomes to be achieved.
29. In my own efforts to achieve a sustainable food system, I endeavour to do the following:
OBTAIN CORRECT INFORMATION (I settle for nothing less than absolutely everything , e.g., ENVIRONMENT ' ·STUDY
SPEND TIME WITH
IMITATE/INTEGRATE WITH NATURAL PROCESSES
PAY ATTENTION TO FEEDBACK
MODIFY MY ACTIONS ACCORDINGLY SET RATIONAL AND CONSISTENT GOALS WITH DEADLINES
( Short-, Mid- and Long-Term) MAKE RELEVANT COMMITMENTS AND PUBLICIZE THEM SEEK ALLIES WITHIN THE SYSTEM AND OUTSIDE COOPERATE, COLLABORATE AND NETWORK TO ACHIEVE MY GOALS
(I look for commonality) RECOGNIZE THE DIFFERENCE BETWEEN ACTING ON RATIONAL THINKING AND "GUT FEELINGS" VS SUPERFICIAL FEELINGS
(Distresses and internalized oppressions) TAKE CLEAR, FULLY HUMAN, POWERFUL ACTION BASED ON MY GOALS d ( I tend to emphasize indirect, multifaceted, low-resource-dependent, preventive, local, knowledge-and skill-intensive, big-ecological, and anonymous approaches) PEER COUNSEL FOR SUPPORT, RECOVERY FROM HURTS, AND TO ELIMINATE DISTRESSES
(To help me to continue in the face of hopelessness and of resistance, mine and others and to regain my full intelligence)
30. The following poem and statement from Chief Seattle perhaps convey more than the foregoing statements the values that I have been endeavouring to convey to this Committee.
"The earth and I are of one mind."
-Sitting Bull
Flat outstretched upon a mound
Of earth I lie; I press my ear
Against its surface and I hear
Far off and deep, the measured sound
Of heart that beats within the ground.
And with it pounds in harmony
The swift, familiar heart in me.
They pulse as one, together swell,
Together fall; I cannot tell
My sound from Earth's, for 1 am part
Of rhythmic, universal heart.
--Elizabeth Odell
A C T I O N S
(Extracted from David McConkey's "Global Thoughts & Local Actions", $4.50 postpaid from Marquis Project, 220 8th Street, Brandon, MB R7A 3X3)
VOLUNTARY SIMPLICITY
A. GETTING GOING (priorities; goals; inventory; first steps; learning; support; commitments)
B. OUTWARDLY SIMPLE
1. FOOD (lower on food chain; unprocessed; less junk, fat, sugar, salt; grow & prepare own; U-pick, direct buy in bulk, organic, local)
2. CLOTHES (give away; sales; lasting styles; share; recycle; make; mend; natural fibre)
3. HOME (insulate; live cooler/warmer; timer; orient; solar & renewable energy)
4. HOMEMAKING (needs vs. wants; re-use, repair, recycle; share, rent, lend, donate, minimize packaging; avoid disposables; compost; energy & resource efficiency & conservation; safe alternatives to high risk products)
S. TRANSPORTATION (combine trips; phone, walk, cycle; public transport; car pool; tune-up; efficient model; speed limit; vacation near home)
6. WORK/MONEY (records, budgets; reduce expenses; buy carefully; part-time, job sharing; barter)
C. INWARDLY RICH
1. LEARNING (experiment, risk; nourish interests; share; use local facilities; creative; keep journal; discover about other cultures, etc.)
2. GUMPTION (rational & intuitive; self-appreciation & care; rest; commune with nature; take time; dream; grow with others; open)
3. WORK/MONEY (consistent with goals [non-monetary]; alternatives; income sharing; entrepreneur)
4. HEALTH (responsibility, wellness; information; support; holistic [awareness, nutrition, exercise; communication, relaxation, lifestyle]; avoid stress & risk; first aid & CPR)
S. FAMILIES (priority; share; learn from children; read aloud, talk; play; limit TV; alternative education)
6. FUN/CELEBRATIONS (play; alternative gifts & celebrations; cooperative games; celebrate living)
7. TUNE INTO NATURE (harmony, balance; plant trees; avoid poisons; attract birds & wildlife; save & exchange seeds; visit parks; eat weeds)
8. THIRD WORLD SOLIDARITY (learn about & interrupt oppression; join in cultural events; cook different styles; fast; learn about & work in LDC)
9. COMMUNITY (cultivate friendships; self-help, support & learning groups; allies; co-ops; communal living)
II NURTURING A GLOBAL ETHIC
A. PARENTING (affirmative, co-operative, accepting environment; honest caring relations; nonviolent conflict resolution; consequences vs. punishment; example; limit & explain TV's influence, support groups; schedule time together to eat, walk, talk & play together; physical activity; creative toys; nourishment; social relations; include in and explain real world experience & political action)
B. EDUCATING (self reliance; stewards; conservers; creative workers; champions of peace & justice; self-motivated; flexible; life-long learners independent creative thinkers; community oriented; co-operative; alternative/home schooling)
III POLITICAL ACTION [All actions are political actions]
A. GETTING STARTED / LET'S GO (compare personal & political goals; be confident; not overwhelmed; do it)
B. POLITICAL ACTION IN DAILY LIFE
1. PURCHASING (conscientious purchasing; read labels; support & join self-help groups, boycotts & producer & consumer co-operatives; interrupt prejudice & oppression; support responsible businesses, avoid using products of endangered species)
2. ORGANIZATIONS (raise awareness in your organizations; take actions to conserve resources; bank & invest responsibly)
3. FAMILIES (take stock of your roles & responsibilities; avoid prejudice & oppression; monitor media, books & toys; alternative gifts, holidays, schooling; involve whole family in social action; support groups)
4. WORK / MONEY (make work socially relevant; lobby for healthy working conditions, flexible hours; social action; sabbatic; donations; peace tax; responsible investment; credit unions)
S. THIRD WORLD SOLIDARITY (think, learn, become involved; share concerns; identify with oppressed; participate in Peace (Aug. 6), World Food (Oct 16) and Human Rights (Dec. 10) Days)
C. SOCIAL ACTION GROUPS
1. GET INVOLVED (join, volunteer, donate, organize, educate, raise $, network)
D. ELECTORAL POLITICS
1. VOTE & THEN (recognize importance of individual actions; write letters; keep MP's & MLA's informed of your organization's concerns & events; attend political meetings & ask questions; join a party; become a candidate; form a party; sit on a Board)
Copyright © 1986 Ecological Agriculture Projects
---
Info Request | Services | Become EAP Member | Site Map
Give us your comments about the EAP site
---
Ecological Agriculture Projects, McGill University (Macdonald Campus)
Ste-Anne-de-Bellevue, QC, H9X 3V9 Canada
Telephone: (514)-398-7771
Fax: (514)-398-7621
Email: eapinfo@macdonald.mcgill.ca
To report problems or otherwise comment on the structure of this site, send mail to the Webmaster