EAP Publications | Virtual Library | Magazine Rack | Search | What's new
Join the Ecological Solutions Roundtable
---
Our love-hate affair with plastics
Growers talk about the beliefs, problems of mulches arid rowcovers.
The benefits of plastic mulches and rowcovers have been well-documented since they were introduced to growers in the 1950s. Plastic mulch warms the soil for early growth, prevents weeds, keeps plants clean, prevents runoff and reduces evaporation. Rowcover provides warmth for better plant growth and keeps insects away.
Many growers, however, feel guilty about their use of the plastics because most of the material can't be recycled and ends up going to a landfill after a season or two. Yet the profitability of many farms, particularly organic farms, depends to some degree on the use of plastics.
"I don't want to use the plastic mulch, but I just can't beat it;" said Mike Tabor, a Pennsylvania grower who sells in the Washington, D.C., area. "Last year I put 600 basil plants under straw instead of plastic, and I did not get the same production.
"Once you get over 5 acres, you just end up using the stuff."
For Tom Denison, an Oregon grower who has specialized in warm-weather crops, plastics "have been a real important part of my program.
"I don't think I can completely get away from them, but I'm trying to move into crops that I can grow without plastic," he said.
Because plastics generate such mixed emotions, many growers say they carefully analyze their situation before deciding whether or not to use the mulches and rowcovers. In some cases, a few hundred dollars spent on plastics may bring in thousands more in sales. In other cases, though, the benefits will be slight enough that the grower may decide to forgo the plastics.
But at the same time, new products are continually being introduced that can change the cost-benefit scenario. To help you wade through the multitude of options and determine which - if any - plastics are a sensible option for your farm, Growing for Market talked to growers and researchers about their experiences.
Rowcovers
Spunbonded polypropylene rowcovers, developed in the 1970s, are designed to "float" on young crops to keep insects off, but many growers have found that if they're kept loose enough to allow growth of upright-growing plants like eggplants and peppers, a stiff wind can end up damaging the plants' growing tips. Frank Morton of Philomath, Oregon, used to use the floating rowcovers on low-growing salad plants. But he cautions that some materials can shed little white fibers onto the plants - not an appetizing addition to a salad mix. Before you buy a rowcover for salad plants, ask for a sample and rough it up a bit above a black surface to see if it sheds fibers. (Morton no longer uses row covers. "I decided it made my-garden look like it was wrapped in toilet paper," he said.)
Tom Denison, in Corvallis, Oregon, recommends buying wide sheets of floating rowcover for vining crops such as melons. The savings in labor are significant when you can just spread a blanket across a field, rather than laying the rowcover in many single rows.
David Cohlmeyer of Cookstown Greens near Toronto, Canada, uses floating rowcovers for flea beetle control on the cresses and brassicas he uses in his salad mix. He tried various products, from nets to spun fabrics in different weights, and found all unsatisfactory. They ripped easily during installation, roots grew through them, making removal difficult, thin spots let flea beetles through, they reflected too much light and sometimes they overheated, resulting in burned leaf tips.
Then he found a product called Vis-Queen, which is a clear plastic with about 400 tiny perforations per square inch. Cohlmeyer says the product suffered none of the problems he experienced with other rowcovers. And, being W treated, it normally remains flea-beetle proof for two to three uses. After that, he uses it as frost protection - he says he got overnight protection of 3°F with a single layer and 9°F with a double layer.
In 1992, the manufacturer of Vis-Queen went out of business but Cohlmeyer has located a similar product called Fast Start plant and seed blanket, from Easy Gardener. A spokeswoman for the company said that most of the product is sold in small rolls to hardware stores, but that they have recently begun to sell directly in wholesale quantities to farmers. A roll 6 feet by 250 feet costs $54, which is comparable to spunbonded rowcovers.
Cohlmeyer said that rowcovers are only worth the cost on high-value crops that couldn't be grown without them. He does not think that he could justify buying them just as frost protection.
"I find it quite cost-effective for salad greens," he said. "And once they've paid their way for flea beetle control. it's cheap frost protection.»
Cohlmeyer said he pulls the rowcover fairly taut when he uses it over seedlings, to prevent wind damage. He also uses the material on hoops made of #9 spring steel wire on other, upright-growing crops. He recommends that you try to find spring steel hoops, which don't get bent up like other types of wire. Unable to find a supplier in Canada, he now has a small steel company sell him spring steel wire and he makes his own hoops.
Other popular row covers are the slitted or punched plastics that are used on hoops to make mini-tunnels above young plants. Clear slitted row cover usually provides 1° to 4° frost protection, and elevates daytime temperatures 10° to 30°F, depending on sunlight levels. They can expedite harvest by as much as two weeks. They are recommended for cool spring climates with low light levels. For even more warming -usually needed only in northernmost areas - punched plastic is available. These tunnels, with holes 4 inches apart, can result in daytime warming of up to 40° F.
For growers in warmer areas who just want an earlier start, there is now on the market a white slitted plastic. It is vented the same way as slitted or punched row covers, but the white pigment reduces the amount of solar radiation inside the tunnel.
The big problem with rowcover, whether used directly on the crop or held on hoops, is that it's difficult to weed beneath it. For that reason, most growers who use rowcover also use a plastic mulch.
Plastic mulch
The first plastic mulch used by vegetable growers was clear plastic, which increases soil temperature 7° to 10°, thereby getting the crop started earlier and resulting in earlier harvest. Weeds proliferate under clear plastic, however, so growers soon switched to black plastic, which prevents weed seed germination but warms the soil only 4° to 5°. The next development was of an infrared transmitting (IRT) film that warms the soil, but is dark enough to suppress weeds. Of several products on the market, IRT 76 transmits the most radiation and results in a soil temperature increase of 6° to 8°, almost equivalent to clear plastic.
This wavelength-selective mulch is brown or green in color. Evelyn Marvel, whose family farms 50 acres of vegetables that are sold at their roadside market near Hershey Pennsylvania, says they have tried various infrared mulches. They also sell mulch and other supplies (see Sources at end of article.)
"The brown mulch hasn't worked out quite as well as the green," she said. "Green retards weed growth better."
The cost of the IRT mulches is about 25 percent higher than regular black plastic, so it's important to determine whether it will pay off for you.
But how much benefit can you expect from an IRT mulch? It depends on where you live, what you grow and whether early yield or total yield is most important to you. Muskmelon is the crop that does best under IRT mulch because it is most sensitive to cool soil; others that are often grown on IRT mulch are peppers, watermelons, cucumbers and eggplants. In one Iowa study, yield during the first 10 days of muskmelon harvest was 13 percent to 28 percent higher on IRT mulch than on black plastic (and 150 percent the early yield from bare soil). But total yields for the season were higher on black plastic than on IRT plastic.
Because the research results on plastic mulches varies considerably around the country, you should call your Extension vegetable specialist to find out what kind of research has been done in your region. Only that way can you make an intelligent decision about whether the more-expensive mulch is right for you.
Denison uses clear plastic mulch because he needs every degree of soil warming he can get to grow melons in his cool climate. He says the clear mulch can be used in an area that had dark mulch the previous year because most weed seeds will be gone after a season in the dark. Also, he finds that the growth of the melons is so fast with the row covers and drip irrigation that the plants quickly shade the soil, preventing weed growth.
Colored films
Today, the new frontier in plastic mulch film is specific colors for specific plants. Dr. Mike Orzolek at Penn State University has been trying different combinations and found that these gave the best results: red mulch for cucumbers and squash, yellow or silver for peppers, blue for squash, brown for tomatoes and watermelons. In several cases, the increase in yield over black plastic was impressive. Peppers grown on yellow mulch yielded 22 percent more and cucumbers on red yielded 18 percent more. In addition, fruits were bigger and healthier looking.
The colored mulches reflect different radiation patterns into the plant canopy, thereby affecting photosynthesis. They also can have an effect on insects, although the possible combinations aren't yet known. Some research, however, has shown that aphids are repelled by silver mulches. And yellow mulch seems to have the same magnetic attraction for certain insects as the yellow sticky cards used to monitor insect populations in Integrated Pest Management systems. Orzolek says that yellow mulch is so attractive to cucumber beetles that you can probably control the pest in the entire crop just by controlling it in a few yellow-mulched rows.
If you're interested in experimenting with colored mulches but don't want to buy a whole roll of the expensive plastic Dr. Chuck Marr at Kansas State University says that you can paint the less expensive black film. For a reflective surface, apply silver paint with a roller. For colors, dilute latex paint 3 to I and spray it on the mulch before planting.
Paper mulch
As the popularity of plastic mulch has increased, so has concern about disposal problems. Bill Lamont at Kansas State University says that there is some work being done on converting the used plastic into pellets that can be used as fuel. Otherwise, mulch isn't being recycled because it's too dirty from contact with soil. So now manufacturers are introducing black paper mulches that have similar soil-heating and weed-blocking qualities.
John Peterson and Kimberly Rector of Angelic Organics in Caledonia, Illinois, used paper mulch on some crops last year and plan to completely quit plastic mulch this year. Peterson said he disliked the plastic because he found it was difficult to get it all out of the field, even after he bought a mulch lifter. And he says the soil stays too wet beneath the plastic. In 1993 - the year of the Midwestern floods - he had to pull up the plastic mulch during the season because the soil wasn't able to dry out at all.
"It really changed my relationship to the stuff," he said.
However, he has found that paper mulch has problems all its own.
First, he found it difficult to put down the paper with his mulch layer because it doesn't stretch the way plastic does. Then he discovered that the paper quickly rots right at the point where it enters the soil on the sides of the bed. "It rips after three to four weeks, and there will be a split all the way along the bed," he said. "Then the wind will come along and just blow it right up."
On crops where he also used rowcover, the tear at the soil line wasn't such a problem because the wind couldn't get underneath the mulch. Vining crops also held the mulch down. But on crops that weren't protected by rowcover, such as peppers, he had to walk down the rows with a shovel and throw dirt on the mulch to hold it.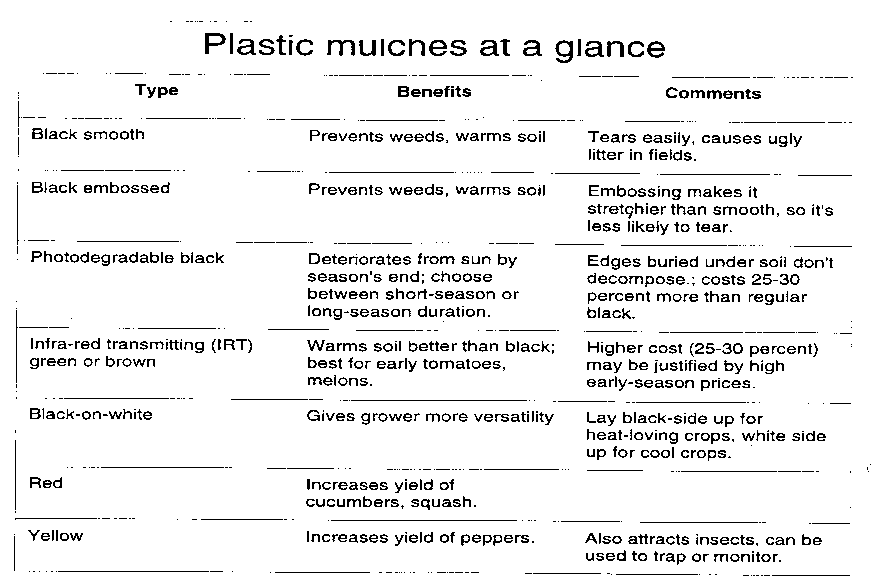 Sources
Plastic mulches and rowcovers are available from most growers' supply companies and seed companies. In addition, the following list is of manufacturers who will either sell directly to you or refer you to a nearby distributor. Prices vary considerably so shop around.
AEP Industries, 125 Phillips Ave., South Hackensack, NJ 07606; 800-999-2374
Blako Industries Inc., PO Box 179, Dunbridge, OH 43414; 419-833-4491
Climagro, 3235 Sartelon St., St. Laurent, Quebec, Canada H4R I E9; 514-454-5352 CT Films, RD 2, Box 67, Harrington, DE 19952; 302-398-8115
Easy Gardener, PO Box 21025, Waco, TX 76702; 800-327-9462
Ken-Bar, 25 Walkers Brook Dnve, PO Box 504, Reading, MA 01867; 800-3368882
Robert F. Marvel, 540 Luther Rd., Harrisburg, PA 17111; 717-564-1478
Mechanical Transplanter, 1150 S. Central Ave., Holland, MI 49423; 800-757-5268 North American Film Corp.. l 9 Depot St., Bridgeport, PA 19405; 800-523-0501
PolyWest, 1106 2nd St., Encinitas, CA 92024; 619-943-7795
Copyright © 1995 Growing for market
---
Info Request | Services | Become EAP Member | Site Map
Give us your comments about the EAP site
---
Ecological Agriculture Projects, McGill University (Macdonald Campus)
Ste-Anne-de-Bellevue, QC, H9X 3V9 Canada
Telephone: (514)-398-7771
Fax: (514)-398-7621
Email: eapinfo@macdonald.mcgill.ca
To report problems or otherwise comment on the structure of this site, send mail to the Webmaster