Sustainable Farming
Sustainable Farming Index | Virtual Library | Magazine Rack
Search | Ecological Solutions Roundtable
---
Herbicide costs slashed, spray drift reduced with soybean oil
by Susanne J. Brown
It promises to cut herbicide costs in half, reduce chemical spray drift, and minimize particle evaporation. The alternative cropping method of mixing soybean oil with herbicides does just that and more, according to two farmers and experts trying the procedure in the Lachute area of Quebec.
"Even when I was rinsing the sprayer, it was effective on the four last rounds of the field," pointed out Brownsburg dairy farmer Truman Clark recently at his on-farm demonstration, arranged by the Lachute office of the Quebec Ministry of Agriculture, and Ecological Agricultural Solutions & Energies (EASE) of Maxville, Ontario.
"The weeds died faster throughout the field than they did before, and we noticed a big difference in the corn brace roots," said Clark. "The corn is stronger and the yields were not affected."
As for reducing input costs: "Its meant more money in my pocket this year than last," said Clark. (See Table 1 and 2 for Clark's costs between using soybean oil to cut his herbicide rate in half compared to recommended rates.)
St-Hermas cash crop farmer Xavier Peeters also tried a few test plots on part of his soybean and corn fields this year. He had favorable results when he compared his lowered input costs. However, when he compared the field results to previous years, there were more weeds in parts of his soybean plots where less herbicide was used.
Popularity increasing
American farmers have been using vegetable oil along with their chemical sprays for several years. In western Ontario, the method is taking off and is now "winning in popularity here," said Normand Bourgon, responsible for MAPAQ's alternative crop program in the Lachute region.
Bourgon expects more Quebec farmers will be trying the method next year.
"As a rule of thumb, you use 25 per cent more oil than the chemical" per acre, said Gary Skillen of Ecological Agricultural Solutions & Energies, a retailer of soybean oil and other soil fertility management systems.
The oil encapsulates the chemical so "the herbicides stick to the weed leaves better. Drifting and evaporation are reduced so this procedure is also environmentally friendly," he said.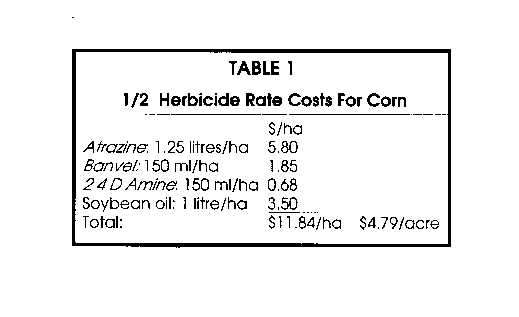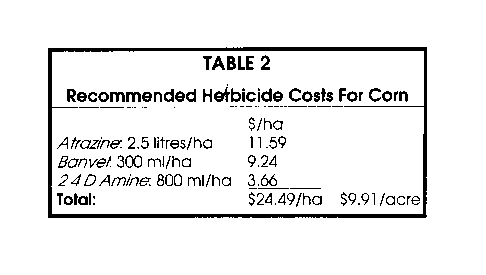 Copyright © 1995 REAP Canada
Reprinted with permission. All rights reserved.
---
Info Request | Services | Become EAP Member | Site Map
Give us your comments about the EAP site
---
Ecological Agriculture Projects, McGill University (Macdonald Campus), Ste-Anne-de-Bellevue, QC, H9X 3V9 Canada
Telephone: (514)-398-7771
Fax: (514)-398-7621
Email: info@eap.mcgill.ca
To report problems or otherwise comment on the structure of this site, send mail to the Webmaster