Sustainable Farming
Sustainable Farming Index | Virtual Library | Magazine Rack
Search | Ecological Solutions Roundtable
---
An ounce of prevention is always worth a pound of cure
by Hugh Maynard
Carl Cosack has nothing philosophical against using medication in his beef herd; he just thinks that farmers are wasting their money on purchased herd health instead of spending a little more time observing their livestock.
Cosack runs the Peace Valley Ranch Ltd. in partnership with his wife Susie near Collingwood, Ontario. A beef cow herd of 160 Herefords crossed with Blonde d'Aquataine bulls are complemented by a feedlot operation that finishes 1,200 head per year. Both are part of an "additive-free" beef marketing program in the area that now comprises 8,000 head yearly.
Speaking in one of the workshops at the Organic Agriculture Conference, held in Guelph at the end of January, Cosack said that treating an animal for a health problem is always more expensive than preventing it in the first place, especially when loss of performance by the sick animal is taken into account.
Cosack's strategy is simple: knowledge is the most effective management tool a farmer has. When treating an animal, diagnosis is often difficult and leads to a shotgun approach of trying one medication after another until something is successful. Prevention, on the other hand, means gaining insight into the status of the herd's health and using that knowledge head off potential problems.
Sample, sample, sample
Blood testing is Cosack's first line of defense against common infections such as IBR and BVD. By testing every tenth cow at the same time as the pregnancy check Cosack obtains a "real good read of viruses" active in the herd, and at a very modest cost of between $2-3.00 per sample. By knowing what anti-bodies are present, he can eliminate the unknowns when discharges or nasal problems occur, making the decision whether or not to treat easier and, if yes, more effective.
"If I do have a problem, I can immediately eliminate six or seven things as a cause," he says. Any animals that are treated are removed from the marketing program and shipped through the regular stockyards.
Cosack will use vaccines, particularly against IBR, as a cheaper alternative to having to treat with medication. He regards them as the proper application of commercial technology: "I can't afford to lose a$1,000 cow," he notes, adding that new groups of animals coming onto the farm are isolated and blood tested before being integrated into the herd. "It's so much easier than putting everything on 20CC of antibiotics," he says.
Testing manure samples is the second preventative measure Cosack employs. Protein and vitamin levels give indications of herd nutrition and egg counts in the manure will also show the level and types of worm infections.
Prevention, prevention, prevention
"Anything and everything I can do for prevention" is Cosack's approach, one that emphasizes a management system that's "right for the animals, not just for me." He makes sure that the cows are well bedded, have plenty of room and receive adequate sunlight.
In anticipation of a situation, Cosack will ensure that the cows are not deficient in anything, whether it be vitamins or giving extra straw. He notes that the dull and dreary summer of 1992 will probably be reflected in lower calving rates, something he compensated for with additional vitamin E and selenium.
Combatting insects is another area that is suited to prevention, thereby eliminating the need for medicated wormers and chemical insecticides. Cosack uses diatomaceous earth (DE), a silica based mixture with sharp-edged particles that penetrate the protective coverings of insects and larvae on contact.
The cows are fed DE (free choice) at the rate of three-quarters of a pound, spring and fall; the material is not digestible by the cattle, but as it passes through with the manure, it helps to keep fly and worm populations down. The mixture can also be dusted on the animals' backs to control grubs and warble flies. Cosack warns that dusting is ineffective against insects that inhabit less exposed areas, such as lice under the armpits, and recommends using a fine spray mixture to cover hard to reach areas if necessary.
Cosack also also mixes DE with water (at the rate of 50 lbs to 100 gals.) and sprays barns in the spring before the fly population gets going. The spray sticks to the wall and, as the water evaporates, the DE remains imbedded as a summer-long hazard for landing flies. He warns that the mixture must not be too wet or it will just run off, taking the DE as well.
Observation
Cosack says that there are many things a farmer can do as a manager to keep animals healthy without spending money. He culls rigorously, 10-15% of the herd annually, keeping only the best performing and healthiest cows. He also spends two hours a day just observing the cattle for signs of trouble, such as respiratory infections in the winter and pink-eye in the summer, so that potential problems can be headed off before treatment becomes the only alternative.
Preventative principles are applied to all aspects of the operation: when bringing in new calves, he recommends buying them as a group as the animals are already socialized and less prone to debilitation from aggressive behaviour. Cosack also sprays new animals with apple cider vinegar, which gives off a bad smell to other cattle.
"Aggressors back off until it wears off. By that time, the barn smell is on the new cattle and no one is the wiser," Cosack says. He also applies the same spray with a spot-on gun for cycling cows, which prevents the animals from being tormented by constant mounting.
"There's no disruption, so there's better gain, Cosack says, "and there's no bruising on the hips, so there's a better sale."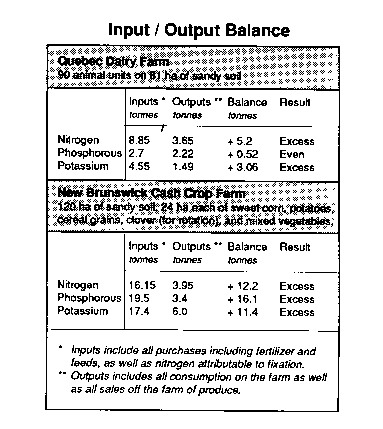 Copyright © 1993 REAP Canada
Reprinted with permission. All rights reserved.
---
Info Request | Services | Become EAP Member | Site Map
Give us your comments about the EAP site
---
Ecological Agriculture Projects, McGill University (Macdonald Campus), Ste-Anne-de-Bellevue, QC, H9X 3V9 Canada
Telephone: (514)-398-7771
Fax: (514)-398-7621
Email: info@eap.mcgill.ca
To report problems or otherwise comment on the structure of this site, send mail to the Webmaster