Sustainable Farming
Sustainable Farming Index | Virtual Library | Magazine Rack
Search | Ecological Solutions Roundtable
---
Perennials conserve organic matter
Natural ecosystems and perennial pastures are able to conserve organic matter and nutrients by recycling them efficiently in the surface soil, thereby minimizing losses. Decomposition of organic matter by microorganisms releasing plant available nutrients occurs simultaneously with the uptake of these nutrients by growing plants. When land is cultivated for growing annual crops, the linkage between microbial mineralization and plant productivity breaks with the result that nutrients can be lost easily from the plant-soil system. This is most obvious in periods when fields are without vegetation.
There are fundamental differences between annuals and perennials in the way they grow and in the allocation of above- and below-ground organic matter, that is, the amount of shoot as compared to root growth. These differences are of vital importance to maintaining organic matter levels in the soil, but may not be obvious.
It is the adsorption of the products of microbial decomposition onto the surfaces of soil minerals which helps to form stable organic matter. The ability of plants to restore soil organic matter is related directly to the amount and form of organic matter deposited below-ground. This not only includes the actual root biomass, but also all organic substances released by the roots in a process called rhizodeposition.
Leaking of organic compounds from root to soil provides a source of food for the microorganisms in the rhizosphere. This, in turn, determines the composition of the microbial community associated with the root and the overall cycling of organic matter in this ecosystem.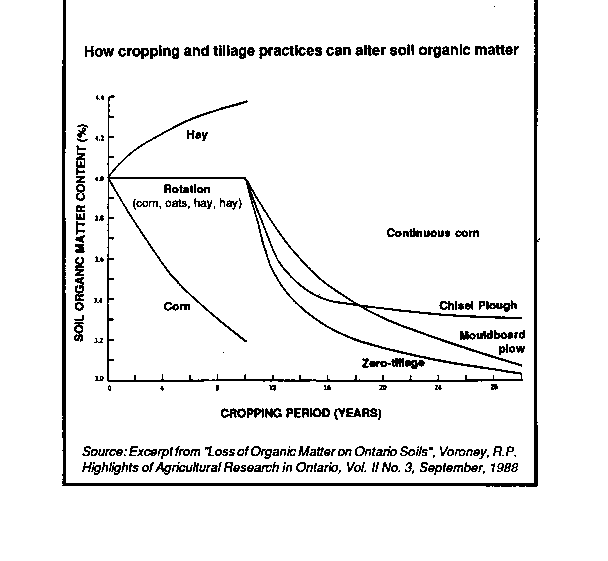 Copyright © 1991 REAP Canada
Reprinted with permission. All rights reserved.
---
Info Request | Services | Become EAP Member | Site Map
Give us your comments about the EAP site
---
Ecological Agriculture Projects, McGill University (Macdonald Campus), Ste-Anne-de-Bellevue, QC, H9X 3V9 Canada
Telephone: (514)-398-7771
Fax: (514)-398-7621
Email: info@eap.mcgill.ca
To report problems or otherwise comment on the structure of this site, send mail to the Webmaster