Sustainable Farming
Sustainable Farming Index | Virtual Library | Magazine Rack
Search | Ecological Solutions Roundtable
---
Intercropping to reduce European Corn Borer Damage
By Ralph Martin
In 1985 and 1986, at the Central Experimental Farm, Ottawa, corn and soybeans were intercropped for silage to determine effects on yields and the percentage of European corn borer (ECB) infestation. Two corn hybrids (dwarf PAG 391134 and tall Coop S259), two com cropping systems (monocropped and intercropped), and three nitrogen fertilizer levels (0, 60 and 120 kg N/ha) were analysed.
Tall corn was planted at monocrop rates of 60,000 plants/ ha and at intercrop rates of 40,000 plants/ha. Dwad corn was planted at recommended monocrop rates of 150,000 plants/ha and at 100,000 plants/ha in an intercrop. Monocropped soybeans were planted at the rate of 500,000 plants/ha and intercropped soybeans were planted at the rate of 334,000 plants/ha. In each case, the lower rate is 67% of the full rate.
Results
The average percentage of corn stalk infestation was significantly greater in monocropped (70%) than in intercropped (33%) tall com in 1985, but the effect of intercropping was not significant for dwarf corn (16% and 13% in monocropped and intercropped com respectively). In 1986, intercropping significantly reduced the average percentage infestation from 51 % to 44% in tall corn and from 36% to 22% in dwarf corn.
The maximum infestation of dwarf corn, considerably lower than in tall com, resulted in a narrower range of infestation. Detection of differences in infestation due to intercropping, particularity in 1985, was more difficult when the dwarf corn was under moisture stress as well as the normal stress of high population.
The commonly applied rate of 120 kg N/ha resulted in the highest ECB infestation. Yields at 60 kg/N ha were as high as those at 120 kg N/ha, but average ECB infestation was significantly less at 60 kg N/ha. Application of 0 kg N/ha resulted in the lowest yields, but ECB infestation was not deferent from that at 60 kg N/ha.
The observation that yields and LERs did not change between 60 and 120 kg N/ha and that the highest ECB infestations were found at 120 kg N/ha suggest that the failure of yields to increase between 60 and 120 kg N/ha could be due, at least in part, to higher ECB infestations at 120 kg N/ha. Corn leaves are more lush and more palatable to ECB at high rates of nitrogen.
Economical
Due to the fact that there was heavier ECB damage in the monocropped corn at 120 kg N/ha, the most economical treatments were those involving intercrops with applications of 60 kg N/ha. As reported in an earlier newsletter(Vol 1 #2),
these corn-soybean intercrop treatments were $132 -$261 more cost effective per hectare than a monocrop of tall corn with 120 kg N/ha.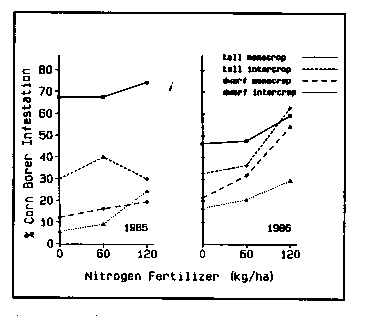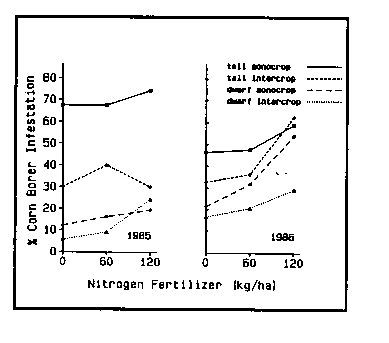 Editor's note: Ralph is a Ph. D. graduate student at Macdonald College
Copyright © 1988 REAP Canada
Reprinted with permission. All rights reserved.
---
Info Request | Services | Become EAP Member | Site Map
Give us your comments about the EAP site
---
Ecological Agriculture Projects, McGill University (Macdonald Campus), Ste-Anne-de-Bellevue, QC, H9X 3V9 Canada
Telephone: (514)-398-7771
Fax: (514)-398-7621
Email: info@eap.mcgill.ca
To report problems or otherwise comment on the structure of this site, send mail to the Webmaster