Sustainable Farming
Sustainable Farming Index | Virtual Library | Magazine Rack
Search | Ecological Solutions Roundtable
---
Who and what; is sustainable?
So, what does this sustainable word mean? Many people are using it, in all aspects of the economy and the environment, with more than 600 definitions, to date, of sustainable agriculture alone.
Why so many definitions? Because everyone is desperate to find a slot that will include them, and if they don't find one, they make up their own. No one wants to be 'unsustainable'. Could you see a new magazine promoting the opposite concept: "UNSUSTAINABLE FARMING - No more profit, no more production, no more people". A lot of individuals are making noise and getting on the sustainable agriculture bandwagon because they don't want to be seen on the unsustainable one.
Perhaps we should forget about trying to define the term sustainable and recognize that there are varying levels of sustainability. The lowest of the low comes from some economists who are believers in perpetual motion .... that growth must be maintained ... that resources are inexhaustible. Federal finance minister Michael Wilson seems to fit into this category with his definition for sustainable development hidden in the last budget speech. For Wilson, sustainable development means nothing less than sustained growth.
An evolutionary approach to sustainability is a concept being promoted by Stuart Hill, Director of the Ecological Agriculture Projects at Macdonald College. It is a difficult concept for most to grasp at first but it outlines well the varying levels of sustainability. The following chart was developed by Rod MacRae who is completing his Ph. D. thesis on barriers to the development of sustainable agriculture.
The chart outlines the spectrum of farming approaches with regards to long term ecological sustainability and ignores economic sustainability. Some would argue that doing this is as narrow visioned as the short term economists version. However, it does lay out the framework for the concept of levels of sustainability and methods of progression. Presently, farmers have for the most part have followed a management philosophy that is based on extensive use of inputs to provide productivity. Sustainable farming practices provide an opportunity to lessen dependency on inputs through improving cultural practices on the farm. Using nitrogen as an example, Hill's evolutionary steps can perhaps be better understood.
Step 1. Improve Efficiency of Use:N requirements can be reduced by approximately 113 rd by combining band application of nitrogen at planting with side dressing lower rates at final cultivation (as opposed to broadcasting large amounts of nitrogen preplant
Step 2. Substitute: use leguminous cover crops such as red clover or hairy vetch to fix N from the atmosphere or use manure as nitrogen source to provide all or part of the nitrogen requirements of the crop.
Step 3. Redesign or change the existing structure of the farm through time: lower the total nitrogen requirement by developing a crop rotation that contains more nitrogen f wing crops or crops with lower nitrogen requirements e.g. go from continuous corn to a corn-soybean-cereal-hay rotation, and/or improve your manure management system to better conserve nitrogen ea. apply manure in late summer to a rapidly growing brassica catch crop to store available N over winter.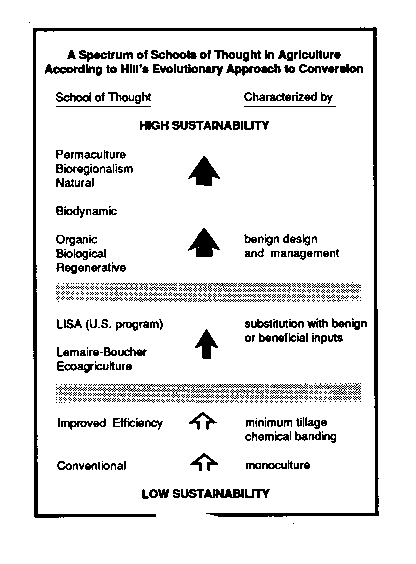 These are some of the economical ways to produce and recycle nitrogen while moving towards a high level of sustainability in the farming system.
With so many horn blowers getting on the bandwagon, sustainable agriculture needs to have a few clear voices to lead the way. Sustainable Farming hopes to be one of these leaders, publishing information on policies and practices, as with the management of nitrogen resources noted above, that can help all farmers achieve a higher level of sustainability. Here's to a sustainable future with sustainable Farming.
Copyright © 1990 REAP Canada
Reprinted with permission. All rights reserved.
---
Info Request | Services | Become EAP Member | Site Map
Give us your comments about the EAP site
---
Ecological Agriculture Projects, McGill University (Macdonald Campus), Ste-Anne-de-Bellevue, QC, H9X 3V9 Canada
Telephone: (514)-398-7771
Fax: (514)-398-7621
Email: info@eap.mcgill.ca
To report problems or otherwise comment on the structure of this site, send mail to the Webmaster