Sustainable Farming
Sustainable Farming Index | Virtual Library | Magazine Rack
Search | Ecological Solutions Roundtable
---
Farming forever
by Roger Samson
On the evening of Monday April 3, Doug Sova was our guest for a conversion workshop about his farm. Although dairy production is the easiest type of farming to convert to more resource efficient practices. Doug's farm soils and land topography make his case more difficult. The main objective of conversion is to maximize the production of high quality legume based forages. This is central to improving animal performance, weed control, and nitrogen cycling while reducing requirements for grain and purchased protein.
Breakdown of Sova Dairy Farm
Area: Applehill, (Eastern) Ontario , approximately 2650 CHU
Livestock: 30 cows, 25 milking year round, 30 heifers and calves
Acreage: Owned: 109 Rented: 56 - 2/3 loam soil, rolling, stony and some tiling - 1/3 muck and clay, flat, stonefree and tiled
Feeding Program: winter: hay, haylage, home grown grain, 40% protein supplement and 44% topdress
summer: hay, corn silage, rotational pasture, grain, 40 % protein supplement and 44% topdress
Cropping Program:
The rotation varied according to the soil type. In general alfalfa was grown for longer periods on the stony, rolling hill land and corn and clover on the muck. A typical rotation on the farm was:
Year 1. Corn
Year 2. Corn
Year 3. Barley undersown.
Year 4. Hay
Year 5. Hay
Year 6. Hay
Year 7. Hay
Doug outlined his soil fertility and weed control programs. Chemical fertilizers and sprays were used until 1986 on all crop acres. Fertilizer use was reduced in 1986 and eliminated in 1987. Spraying was reduced in 1986 and eliminated in 1988 except for a 50 % rate of Tropotox on undersown barley. Weed control in corn consisted of two cultivations which produced good results on 15 of 30 acres in 1988. The remaining crop was poor due to quack grass on one field and lambsquarters on the other. All corn fields received 3000 gallons per acre of liquid manure, spring incorporated. Haylage and corn silage are custom harvested. Hay is barn dried and some is sold. The plan for 1989 is to use round bales to speed up first crop harvest.
Doug's main concerns:
annual weed control in corn and barley
control of quack grass
timing conflict of haying with cultivating (which delays first crop harvest quality.
maintaining phosphorus levels - where to apply manure
Cropping System: The main problems with the existing rotation on the Sova farm are growing corn back to back and a hay rotation which is too long considering the proportion of grain crops required. This may have allowed the quack grass to become a problem in the later years of the hay stand. Harvesting the spring cereals as silage would alleviate the weed problem experienced when underseeding (since the weeds would be harvested as livestock feed before they could go to seed). Perhaps more importantly this would make possible good establishment of the forage seedings. Shortening the hay rotation not only reduces perennial weed problems but increases forage yield and quality and improves nitrogen cycling. Winter cereals would provide a higher grain yield than the spring cereals and be more competitive with weeds. The corn acreage needs to be reduced so that this crop won't be grown back to back or the hills plowed too frequently.
If quack grass control is needed, there are several systems which could be used: 1 ) grow winter rye as grain then follow with oilseed radish; 2) harvest the winter rye as silage and then cultivate and plant buckwheat in July for grain; 3) break the sod after second cut and fallow before planting a winter cereal in September.
Meeting nutrient demands on the farm should not be a serious problem. The winter cereals will be adequately fertilized following plowing of the alfalfa stands. Heavy rates of manure would be applied prior to the seeding of the oilseed radish. This would carry over the nutrients to the following corn crop (we believe this to be of particular importance in phosphorus cycling). Light rates of manure could be applied to the barley to be harvested as silage as well as the corn following red clover.
In order for the farm to become self-sufficient in protein, soybeans or fababeans could be grown on the stonefree clay soils or peas could be included in the spring cereal mixtures. However, for the present it would be best to concentrate on producing high quality legume forages from hay, silage and pasture to meet most of the herd's protein requirements.
Feeding System:
The cereal silage produced (approximately 50 tonnes year) would be used for feeding dry cows and heifers since the quality would not be adequate for high producing milk cows. This could be stored in the silo used for corn silage or as round bale silage in plastic tubes. Or Elliot Block (Dairy nutritionist at Macdonald College) was in the audience and suggested that cob meal is preferable to dry grain corn (as a ration source). Cob meal provides a good fibre source (increases chewing time per day) which helps to alleviate the butterfat depression, a frequent problem when intensive rotational grazing systems are used. Other advantages of cob meal are increased harvested corn yields by (10-20% -making possible a reduction in corn acreage) and saving on drying charges. Doug's main problem regarding cob meal is that he currently has no good facilities for storage and would have to put up another silo. In the summer feeding program it would probably be best to drop the corn silage from the ration and feed the herd on an intensive grazing system, with the addition of free choice hay and cob meal. This is the system being promoted in Vermont by Bill Murphy and particularly well suited to small herds.
If forage quality improves with the rotational grazing, better forage establishment, shorter term stands and earlier cutting, the protein requirement in the ration should be greatly reduced. The 40% protein supplement and 44 % topdress could be dropped and replaced by roasted soybeans.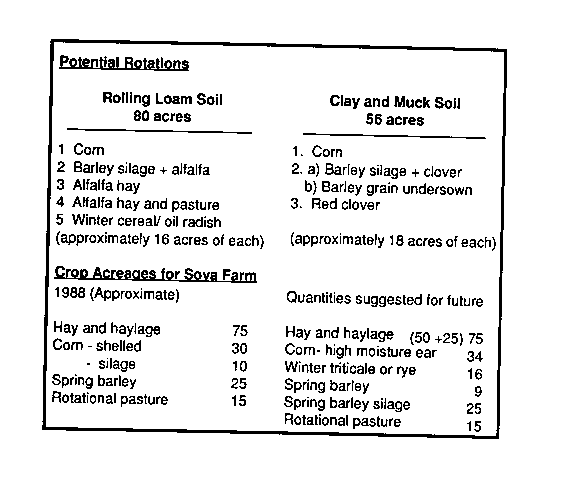 Copyright © 1989 REAP Canada
Reprinted with permission. All rights reserved.
---
Info Request | Services | Become EAP Member | Site Map
Give us your comments about the EAP site
---
Ecological Agriculture Projects, McGill University (Macdonald Campus), Ste-Anne-de-Bellevue, QC, H9X 3V9 Canada
Telephone: (514)-398-7771
Fax: (514)-398-7621
Email: info@eap.mcgill.ca
To report problems or otherwise comment on the structure of this site, send mail to the Webmaster