Sustainable Farming
Sustainable Farming Index | Virtual Library | Magazine Rack
Search | Ecological Solutions Roundtable
---
Conservation Tillage and Manure Management
by Dr. Anne Weill
More than 400,000 ha of corn are grown each year in Quebec, 40% of this being for silage. The increased potential for soil erosion and compaction due to continuous row crop production and intensive tillage is causing some concern and has led to the consideration of tillage reduction techniques as part of the solution. The major purpose of tillage is to reduce soil bulk density, incorporate applied fertilizers, plant residues and amendments into the soil plow layer. It also creates a desirable seedbed and helps to control pests and weeds. The success of reduced tillage practices depend simultaneously on the climate as well as on the effect they have on soil conditions. In Ontario, poor results have been obtained with reduced tillage practices mainly because of high soil bulk densities and resistance to penetration, especially in clay soils. In other areas, the change in soil bulk density has not affected plant growth and root densities have been found to be higher for zero till systems because of the development of continuous vertical pores in these soils. In dry years it is even possible that increased bulk densities and moisture content due to field traffic may be beneficial for plant growth.
Zero-till may result in P and K accumulation at the soil surface. Theoretically, the usually reduced P uptake which occurs when the weather is cold combined with its accumulation in the top surface layer could result in restricted uptake. However ,normal or even more efficient use of these nutrients has been found when using zero-tillage.
Reduced tillage is a possible solution to soil erosion and compaction problems, but it is often combined only with inorganic fertilizer sources and little information exists on the combined effect of reduced tillage and manure applications. Organic amendments such as manure can reduce soil susceptibility to erosion and compaction, decrease soil bulk density and increase soil moisture-content. Nitrogen availability is usually lower for an organic fertilizer and leaving manure on the soil surface of a zero-tilled soil may result in high N losses, and consequently even lower amounts of nitrogen available to the plant. In order to study the feasibility of applying manure in reduced tillage systems for corn - production, an experiment was established on a Macdonald clay (51% clay, 36% silt, 13% sand) - and a St-Benoit sandy loam (16% clay, 15% silt, 69% sand) in the fall of 1981. The tillage treatments were (C) conventional, fall mould-board plowing followed by two spring disking; (R) reduced, fall chisel plowing followed by one spring dishing; and (Z) zero-till, the corn being planted directly into the previous year's stubble. The fertilizer treatments were (I) Inorganic, 170 kg/ha of N. 80 kg/ha of P2O5 and 75 kg/ha of K2O; or (O) organic, which consisted of 40 V ha of dairy manure plus inorganic phosphorus, supplying 170 kg/ha N and 200 kg/ha of K from the manure and 80 kg/ha of P2O5 from the chemical fertilizer. Data collected between 1984 and 1986 showed that, when combined with inorganic fertilizers, reduced tillage resulted in good corn yields (see Fig. 1), and therefore zero-till was found to be the most economical solution. On the other hand, when manure was applied, zero-till proved to be a disaster. Almost no weed control, poor plant population and increased frost damage resulted in low and irregular yields. A promising compromise between reduced tillage and the use of organic fertilization was the combination of fall chisel plowing and manure application on the sandy loam soil. Lower production costs than for conventional systems and good yields made this system very interesting from an economic point of view. On the clay soil it resulted in lower yield probably due to a lower mineralization rate of N. In this case, the use of legume cover crops such as under-sown red clover in cereals during the preceding year could help to improve yields.

The combination of chisel plowing with manure application is one way to achieve soil conservation in a low input system.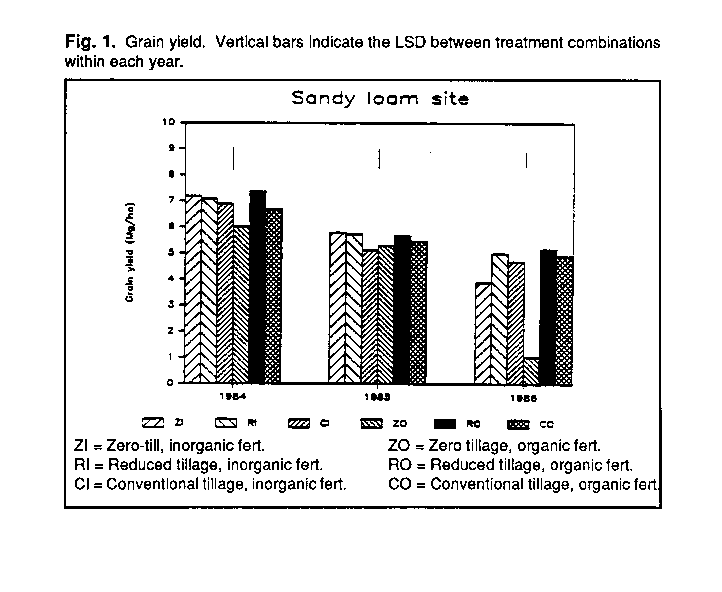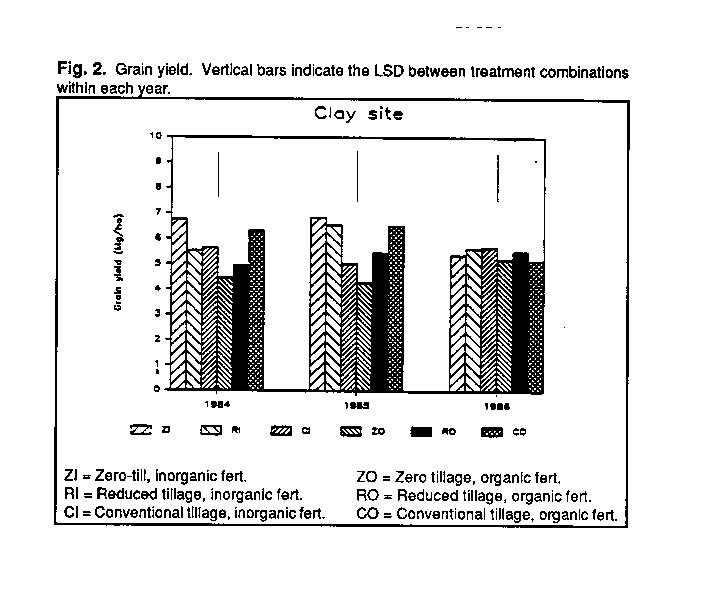 Editor's note: Dr. Ann Weill is REAP-Canada's project manager for the manure management contract in Ontario.
Copyright © 1989 REAP Canada
Reprinted with permission. All rights reserved.
---
Info Request | Services | Become EAP Member | Site Map
Give us your comments about the EAP site
---
Ecological Agriculture Projects, McGill University (Macdonald Campus), Ste-Anne-de-Bellevue, QC, H9X 3V9 Canada
Telephone: (514)-398-7771
Fax: (514)-398-7621
Email: info@eap.mcgill.ca
To report problems or otherwise comment on the structure of this site, send mail to the Webmaster