Sustainable Farming
Sustainable Farming Index | Virtual Library | Magazine Rack
Search | Ecological Solutions Roundtable
---
"C4" Making continuous corn a poor alternative
By Roger Samson
Conserving soil and water resources while maintaining or improving production and profitability in cash grain systems is a challenging goal. Since May of 1986 REAP On- Farm Research and Demonstration has been working with farmers in Southern Ontario to develop more resource efficient farming methods. Our goals are to establish a lower cost system of crop production that produces high yields while protecting environmental quality. We have developed a system where we believe we can achieve this goal. The system can be identified as the 4C Crop and Weed management system:
1. Crop rotation
2. Cultivation
3. Cover crops
4. Chemical Banding
In this system there is not only a rotation of crops but cover crops and tillage management inputs. As well, in this system, inputs such as herbicides and fertilizers are used much more efficiently and economically by banding rather than broadcasting on the row crops. Environmentally we feel the potential for this system is good for reducing soil erosion, phosphorus and nitrate problems as well as reducing herbicide use, another widespread source of nonpoint pollution. To date early results and observations are encouraging as good crop yields are being produced while costs are being reduced considerably by the participating farmers.
An example of the 4C system that we are promoting as a replacement for input intensive corn monoculture in Ontario and Quebec is a more resource efficient corn-soybean-wheat rotation with cover crops as outlined below:
| | | | |
| --- | --- | --- | --- |
| | Year 1 | Year 2 | Year 3 |
| Main crop | Corn | Soybeans | Wheat |
| Cover crop | Ryegrass or rye | Wheat | Clover |
Year 1 Corn Management
Weed Control
- 6-7.5" herbicide band applied with planter (persistent herbicides band should be narrow)
- 2 row crop cultivations and also post emergent herbicide band with cultivator if necessary
- interseeded cover crops will prevent late weed flushes.
Fertility
- the red clover green manure grown in the wheat rotation should provide 50-100 lbs N/acre depending on establishment and length of growing season.
- band apply 40-50 Ibs of N. 3" off the row with the planter along with modest P and K.
Cover Crop
- interseed 10-15 Ibs/acre ryegrass at time of second cultivation using a cultivator modified with a seed box when com is approximately 6-10" in height.
- rye can be aerially seeded after tasselling or no-tilled after harvest .
Year 2 Soybean Management
Soybeans are planted in 21" rows using every third run in a grain drill. Benefits over solid seeded soybeans include better emergence, reduced lodging and lower seeding rates. It also allows cultivation which improves weed control, reduces weed control costs and increases soil aeration which can stimulate crop yield. Benefits of 21 " rows over 30" rows include more plant competition to weeds, and earlier and more complete closures of rows resulting in higher yields and less erosion.
Weed Control
- rye and ryegrass cover crops can suppress perennial
weeds such as quackgrass before soybean planting.
- annual weeds can usually be well controlled without herbicides by using a rotary hoe twice and 1-2 cultivations.
Fertility
- cover crops loosen sold, improving soil structure and releasing nutrients.
- adequate soybean inoculant required for first year soybean sites to eliminate nitrogen requirements.
- fertilizer generally not required, if soils are low band with the planter.
Cover Crop
- wheat acts as a cover crop and is aerially seeded at 2.5 bu/acre before 25% leaf drop in soybeans in cooler season soybeans areas. In warmer season soybean production regions wheat can be no-tilled following soybean harvest or dished and planted.
Year 3 Wheat Management
Weed Control
- wheat acts as an excellent competitor to most annual weeds. Interseeded clovers can also suppress the establishment of weeds in wheat crops and after harvest can suppress quackgrass and prevent annual weed reproduction.
Fertility - approximately 75 Ibs N/acre broadcast in early March
- if drill seeding is used P and K fertilizer can be banded with the wheat at seeding if required
Cover Crop
- red clover can be frost seeded in late winter at 7-10 Ib/acre in wheat using three and four wheel all terrain vehicles or applied with the ammonium nitrate or urea fertilizer. Crimson clover and hairy vetch drill seeded the first week of May also hold promise for improving nitrogen production. If weeds are a problem the field can be cultivated and seeded to oilseed radish which is a rapidly growing cover crop that is excellent for soil improvement and weed control.
A Resource Conserving Approach to Cash Grain Production
Table 2 represents the difference in ground coverage between the corn-soybean-wheat rotation with cover crops (32/36 months) and that of a continuous corn system (15/36 months). The red clover cover crop after wheat (year 3) would be fall chisel plowed or spring tilled before corn (year 1). The continuous com was fall moldboard plowed each year.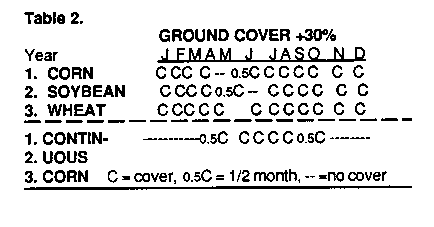 Not only is the 4C system superior from a soil erosion point of view but it also uses less chemical input. By banding herbicides in corn, using only a rotary hoe and cultivation in soybeans and no herbicide on wheat, the system uses 1/15th the herbicides of a continuous corn system. Fertilizer use is also reduced to less than 1/3rd -that of continuous com if banding techniques are used.
The 4C system emphasizes the use and conservation of on-farm resources to lower production costs, maintain high crop yields and reduce environmental impacts from cash grain system
Copyright © 1987 REAP Canada
Reprinted with permission. All rights reserved.
---
Info Request | Services | Become EAP Member | Site Map
Give us your comments about the EAP site
---
Ecological Agriculture Projects, McGill University (Macdonald Campus), Ste-Anne-de-Bellevue, QC, H9X 3V9 Canada
Telephone: (514)-398-7771
Fax: (514)-398-7621
Email: info@eap.mcgill.ca
To report problems or otherwise comment on the structure of this site, send mail to the Webmaster