Sustainable Farming
Sustainable Farming Index | Virtual Library | Magazine Rack
Search | Ecological Solutions Roundtable
---
Taking the P out of your washwater
Hydrogen peroxide and apple cider vinegar may be on the verge of starting a green revolution in the dairy pipeline cleaner business. Several hundred farmers have been using them for several years now. Indications are that they are effective, have low environmental impact, are cheap and are at least as safe as conventional cleaners with regard to the ever important safety of milk.
by Roger Samson
Milkhouse wastes are a major non-point source of phosphorus pollution in Canadian waterways. The average farm discharges approximately 35 kg of P per year which is equivalent to a person dumping 400 - five litre boxes of laundry detergent down the drain and directly into a stream annually. That's more than one box of laundry detergent a day!
In Ontario alone, the estimates are that 357 tonnes of phosphorus per year are being discharged from milkhouses and that 80 % of the dairy operations have direct discharge from the milkhouse to an open watercourse. To make matters worse a large proportion of this P is soluble reactive phosphorus (63 %) which means it is readily available for algae growth. Usually less than 1/3 of the total P in runoff from cropland is big-available.
To put the overall importance of P loadings from milkhouse wastes into perspective, one of the major objectives of the $30 million Canada-Ontario Soil and Water Environmental Enhancement Program Agreement is a reduction of 300 tonnes per year in total P input into Lake Erie. To date much of the focus has been on developing better storage or filtration systems to deal with the discharge.
Pollution Source
The major source of P in wash-water is cleaning agents. Approximately 94 % of the total phosphorus loading is from the wash and acid wash cycles of dairy pipeline systems. The phosphoric acid in the acid wash cycle alone contributes to 85 % of the loading of soluble reactive P. The most direct way to deal with this problem would be to use non-phosphorus cleaning agents. The conventional approach to dairy cleaners is outlined in Table 1.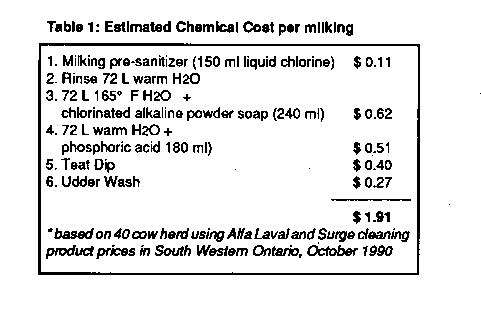 Alternatives in dairy cleaning techniques are becoming available as farmers experiment and companies put on the market new types of non-phosphorus cleaning products.
Pre-sanitizers
Only approximately half of all dairy farmers are using a pre-sanitizer on cow udders as many consider H unnecessary. However, some farmers are using hydrogen peroxide (H202) as a replacement for the chlorine pre-sanitizer and the compound is well documented to be an effective sanitizer. Daniel Lapointe of Bury, Quebec uses 15 ml of 35% H202 in 90 L of water for his pre-sanitization.
Lapointe points out, however, that his water quality is exceptionally good. He suggests that most farmers with average water quality probably need 60-90 ml.
Some farmers are also using hydrogen peroxide as a substitute for the chlorinated soap powder in the cleaning cycle. Brian Jeffray of Wingham, Ontario has used it for the last two years. Jeffray uses about 210 ml per wash but cautions that he has soft water with only about 15 ppm of minerals.
Farmers with harder water may experience problems and may have to adjust their usage rate. He also uses it every other day for washing the bulk tank after the milk is picked up. "It does a spectacular job on my bulk tank" states Jeffray. "I also like it because there are no more plastic jugs to throw away. The hydrogen peroxide containers are returnable".
There has been some scepticism concerning the cleaning ability of hydrogen peroxide. However, it is used in many applications today, from denture cleaning to laundry detergents.
Tom Wybol of FMC corporation in Charlotte, North Carolina says hydrogen peroxide can have a chemical scrubbing effect when it breaks down through oxidation. However, Bill Schmidt of Ecolab in St. Paul, Minnesota doesn't believe hydrogen peroxide is an effective soap replacement as it doesn't have any surfactant properties.
For the wash cycle he recommends using an extremely low P chlorinated alkaline cleanser to reduce the phosphate problem. Kleanzade, a division of Ecolab, markets one such product in Canada under the name "Liquid Super Klenz".
Some farmers have overcome this problem by adding a small amount of surfactant to the H202. A surfactant soap such as Shaklee's Basic H can be added at a quarter capful per wash (approx. 3-4 ml) with the hydrogen peroxide to get a surfactant action along with the sanitizing effect of the hydrogen peroxide. Don't use too much surfactant, however, or you may cause excessive foaming.
Vinegar for Acid Wash
An effective alternative to the use of phosphoric acid for cleaning mineral deposits in pipelines is vinegar. Daniel Lapointe is part of a group of dairy farmers in Quebec that now buys apple cider vinegar, containing 5.4 % acetic acid, for use in the acid wash cycle.
He prefers the apple cider vinegar to what he calls the white `'chemical" vinegar because it is a more natural product. Lapointe uses about 120 ml. per wash, but 180 ml can be used if the build-up is significant. "I think that in one year time there is going to be a lot of farmers using this" says Lapointe.
Milk biochemist Dr Ng Kwai Hang of Macdonald College suggests that reversing the washing order may provide a more effective cleaning action with these products. That is, to use the apple cider vinegar first to reduce scale formation and then to follow with the hydrogen peroxide as an oxidizing agent to kill micro-organisms.
Dr. Ng Kwai Hang cautions that 35 % hydrogen peroxide is corrosive and should be handled with care when diluting it to a low concentration. He regards hydrogen peroxide and apple cider vinegar to be at least as safe as conventional cleaners when used at low concentrations. "I even use acetic acid to clean the mineral deposits in my own kettle in the lab. It's no big deal" he says.
If vinegar won't clean your mineral deposits, then chances are you have very hard water and should consider putting in a water softener.
More uses for H202
One of the earliest uses of H202 was for its anti-sept~c properties when used in dilute solutions. Today it is used in a number of household body products including contact lens solution, Clearasil skin cream, Head and Shoulders shampoo and, of course, ear wax remover.
Farmers have begun to take advantage of the antiseptic properties of hydrogen peroxide by using it as an udder wash and teat dip. Harry Elsinga of Breadalbane, PEI has experience with both uses. "We use about 30 ml /4 litres of water as an udder wash and 60 ml /4 litres of water for the teat dip. You can have irritation problems if you use it at higher levels" says Elsinga. His hydrogen peroxide teat dip is sprayed on using a teat dip squirter.
Elsinga isn't alone in using hydrogen peroxide for teat dip. Kleanzade has been marketing a new teat dip product called Oxy-gard since March in the U.S. It contains hydrogen peroxide and lactic acid as active ingredients. Oxy-gard was developed for pre- and post-dipping. It contains 0.5% H202 which is the same level of H202 as Elsinga is using (i.e. 60 ml divided by 4000 ml X 35 % H202 = .5% H202).
"Pre-dipping is gaining in popularity in the U.S. and in some areas is now being used on 20-30% of the farms" says Schmidt of Ecolab. "It can reduce environmental mastitis infections by up to 50%. There is a potential for pre-dipping with iodine solution products to increase iodine content in milk unless great care is taken when drying the cow".
However, Murray Winnicov of West Agro Chemicals in Kansas City, which does research for Alfa Laval on iodine based teat dip products, suggests Oxy-gard may have stability problems. When asked about the stability of hydrogen peroxide, Alexandra Jackson, a chemist with Van Waters and Rogers in Toronto, explained that the 35% hydrogen peroxide by itself is relatively stable with less than 0.5% breakdown per year with the technical grade. Food grade breaks down twice as fast.
However, when it's mixed with water to a dilute concentration, hydrogen peroxide (H202) decomposes rapidly into its component parts water (H20) and oxygen (O2). Having formerly worked on a dairy farm, Jackson suggested that farmers mix the technical grade hydrogen peroxide once a day before milking to avoid stability problems.
That is also the advice being "uddered" by the American Breeder Service. Uddergold, a chlorine dioxide based teat dip that is just coming on the market in Canada, is recommended to be mixed daily. Some farmers are using hydrogen peroxide up to a 1% level for both the udder wash and teat dip when hard water is present. The general recommendation is that if you see redness or slight scabbing, back it clown or check the milking system for excessive vacuum.
Big Savings
Overall, the hydrogen peroxide and apple cider vinegar system could reduce the dairy cleaning bill of a 40 cow herd from $1600/yr. to $ 500/yr. (including washing the bulk tank every 4th milking) with complete usage of both systems (see Table 2.). Whether this low cost cleaning system-will revolutionize the dairy cleaner industry remains to be seen. However, the phosphate problems with conventional cleaners, interest in pre-dipping, and potential iodine contamination of milk mean that some changes will be likely.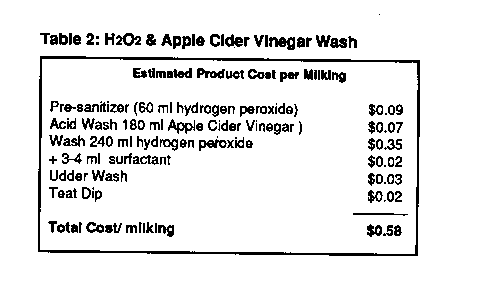 In addition to the phosphorus loadings, the other problem with milk house wastes is milk solids increasing BOD (biological oxygen demand) and creating high bacteria counts in wash water. The bacteria eventually contributes to high bacteria counts at public beaches in the warm summer months.
There are three main options in dealing with the wash water:
1 ) diverting the wash water to a liquid slurry tank;
2) building a separate earthen pond or concrete storage;
3) using a filtration system consisting of a sediment tank and a stone filled trench system on coarse soils (on fine soils they plug up).
However, some farmers are dealing with the residual milk in unwasteful ways. In Europe, a cylindrical sponge is vacuumed through the pipeline at the end of the milking, taking any residual milk out of the lines with it. Another option for disposing of the first rinse of wash water is to put it through a sophisticated biological filtration system. Believe it or not, the ten gallons of water used to wash out the pipeline system can be fed to calves!
The paradox of the hydrogen peroxide story is that one of the largest uses in Canada is for waste water treatment. Hydrogen peroxide is added to neutralize BOD by adding oxygen to improve water quality.
Bio-Ag Systems (35% Technical Grade H202) RR#3 Wellesley, Ont. NOB 2TO (519)656-2460
Kleanzade (Oxygard, Liquid Super Klenz) A Division of Ecolab 5105 Tomkin Rd. Mississauga Ont. L4W 2X5 (416) 238-0171
Les Aliments Reinhard INC. (Apple Cider Vinegar) 2050 boul. Industriel, Chambly, Quebec G3G 4V2 (514)658-7501
Van Waters and Rogers (35% Technical Grade H2O2) (Calgary, Dartmouth, Edmonton, Lachine, Quebec City, Regina, Saskatoon, Toronto, Valleyfield (Que), Vancouver, Windsor, Winnipeg)
Thanks to Suzanne Cazelais of the Ecological Agriculture Projects for providing some of the research information on this article.
Copyright © 1990 REAP Canada
Reprinted with permission. All rights reserved.
---
Info Request | Services | Become EAP Member | Site Map
Give us your comments about the EAP site
---
Ecological Agriculture Projects, McGill University (Macdonald Campus), Ste-Anne-de-Bellevue, QC, H9X 3V9 Canada
Telephone: (514)-398-7771
Fax: (514)-398-7621
Email: info@eap.mcgill.ca
To report problems or otherwise comment on the structure of this site, send mail to the Webmaster