Journal of Pesticide Reform
JPR Index | Virtual Library | Magazine Rack | Search

Join the Ecological Solutions Roundtable

---
Organic Agriculture is for the Birds!
By Loretta Brenner
This summer during a farm inspection for Oregon Tilth's organic certification program, I was struck by the diversity and sheer number of birds that are an integral part of the agricultural landscape at one of the organic farms I certified. The grower diligently provides nesting sites for these farm residents, and she is rewarded by the birds participation in the farm's "pest management" program.
On another Oregon farm, a couple that raises organic cherries encourages bluebirds and swallows to nest in their 20 acre orchard where the birds provide insect control and eliminate the need for insecticide applications. These growers appear to be reaping the benefits that birds can provide in their roles as "on-farm" insectivores.
Recent research indicates that these are not isolated examples, but that sustainable agriculture techniques can play an important role in maintaining healthy and abundant bird populations.
Do Organic Farms Have More Birds?
According to two recent studies organic farms do harbor more birds than do their conventional counterparts. A four year study in Denmark found a greater abundance and diversity of birds on organic versus conventional farms, out of 35 species, 24 had a higher occurrence on the organic farms.2 Carefully planned and implemented studies in Ontario, Canada also show a greater diversity and abundance of birds on organic field crop farms than conventional farms.3 Although it is difficult to say what specifically accounts for these differences in bird populations, pesticide use and farming practices clearly have major impacts on the abundance and diversity of birds~ in the agricultural landscape.
Do Conventional Agricultural Practices Expose Birds to Pesticides?
Migratory and nesting birds dependent for food and shelter on wetland~ and woodlands adjacent to agricultural fields, as well as the fields themselves, are exposed to pesticides by direct spraying or from drift. In North Dakota, prairie-pothole wetlands used by ducks are surrounded by fields of wheat, sunflowers, and other grains. In sunflower fields sprayed with the organophosphate insecticide ethyl parathion, only four percent of mallard ducklings survived while 52 percent survived in untreated fields.4 Similar results were found in Washington grain fields sprayed with methyl parathion.5 (See Figure 1.) In Idaho in 1986, 63 out of 200 sage grouse (an upland game bird) died in an alfalfa field treated with another organophosphate, dimethoate.6 The birds use alfalfa fields for feeding, roosting, and loafing; ingestion of insecticide treated foliage appeared to be the cause for bird mortality.
Information on the impacts of pesticides on birds inhabiting orchards and other intensely managed horticultural crops is sketchy. In one study, eleven out of fifteen blue jays inhabiting disulfoton treated pecan orchards had moderate to severe depression of brain cholinesterase activity.7 (Cholinesterase activity is inhibited by carbamate and organophosphate insecticides, of which disulfoton is one.) AL though no direct mortality was observed, the researchers indicated that bird carcasses disappear rapidly from agricultural areas, making field measurements of bird mortality difficult.
Red tail hawks inhabiting almond orchards were exposed to significant levers of organophosphate insecticides such as parathion, diazinon, or methidathion that are mixed with oil and sprayed during the winter dormant season.8 The route of organophosphate exposure is not known, but secondary poisoning, dermal exposure, and exposure during preening of feathers with residues are implicated. Results of this study indicate that birds exposure probably resulted in chronically sublethal doses of the chemicals leading to cumulative toxicity, an area of chemical toxicology that has been little studied.
Pesticides and Birds' Food Resources
Agricultural pesticides can have indirect effects on birds by reducing availability of food resources, nesting sites, and cover, and spring applications of pesticides often coincide with the breeding season of waterfowl and other species.4-Aerial applications of methyl or ethyl parathion in spring wheat killed most aquatic invertebrates in wetlands adjacent to wheat fields, with effects persisting for up to 18 days post-spray.4 Other agricultural pesticides are also highly toxic to the aquatic invertebrates that are the primary food source for young waterfowl and laying females.9 Widespread aquatic insect die-offs following insecticide use may allow botulism-causing microorganisms to multiply, resulting in poisoning of waterfowl.4
The recent spread of the Russian wheat aphid has resulted in increased applications of insecticides in wheat. The has increased the potential for indirect toxic effects on aquatic invertebrate populations as well as direct toxic effects on waterfowl, although no widespread wildlife casualties have been reported. Recent introductions of parasitic wasps and flies of the Russian wheat aphid in Idaho have the potential to decrease the need for chemical controls.'t
Applications of 2,4D in Canadian wetlands reduced the cover of broadleaf plants by 85 percent compared to untreated areas; nettles, a preferred nest plant of gadwalls, were eliminated. Grasses, which are avoided by ducks as a nest cover, increased by over 200 percent within one year after 2,4D applications, and the density of nests of lesser scaup, gadwall, and white-winged scooter were reduced by 92 percent in the year following herbicide application.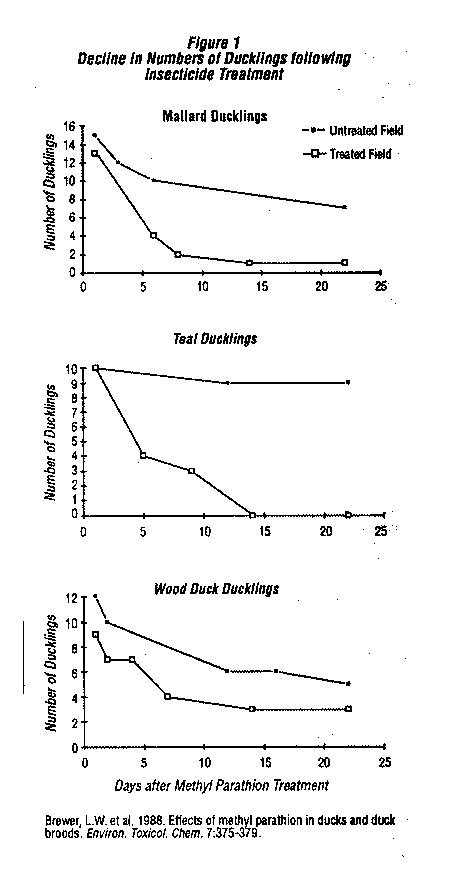 In England, an 18 year study on the effects of agricultural pesticides on birds demonstrated that use of herbicides in cereal crops significantly reduced populations of gray partridge by reducing the food supply. Herbicides not only reduced broadleaf weeds consumed by adult partridges, but the reduction in weeds also eliminated the habitat for insects that are the main food source for partridge chicks. Use of insecticides further decreased the number of insects. The estimated worldwide populations of the partridge, "a species of bird that has been affected by the modernization of agriculture declined from 110 million prior to World War 11 to less than 25 million by the mid 1980s. British ornithologist G.R. Potts recommends that cereal fields be bordered by a 6 meter wide (19.8 feet) unsprayed strip that will allow the growth of weed species that attract insects favored by partridge chicks; on-farm studies of this technique have proven successful in increasing chick survival.12
The use of herbicides also decreases weed seed densities that are an important food source for many terrestrial bird species. This has been documented in Iowa 13 as well as in the United Kingdom, where The British Trust for Ornithology also reports that the widespread use of herbicides has destroyed weeds such as chickweed, mayweed, thistle, and fat hen, whose seeds once sustained huge flocks of songbirds in rural regions.14 Changes in cultural practices can impact bird food resources as well. In the past, farmers would leave crop stubble through the winter that would otherwise provide cover and spilled grain for birds, but now fields are tilled and replanted soon after harvest with crops such as winter wheat.15
Encouraging Birds through Farm Management
Conservation practices, such as no-till cropping systems, that leave vegetative residue on the soil surface improve bird habitat compared to conventional management. But the increased use of herbicides and other pesticides in no-till systems may have immediate and long-term effects on bird populations and are not well understood.9 13 18 The use of no-till agriculture may also encourage farming of steep land that would otherwise be left uncultivated, possibly disrupting bird populations that are already established in these wild areas.
Grassed waterways, used to reduce soil erosion on crop land, provide habitat for many bird species. Timing the mowing of grassed waterways is important to minimize the impact on nesting and foraging birds.
Edge habitat in crop fields effects bird abundance and diversity, as does field size. Fifty bird species were recorded in woodland edge habitat compared to 23 in herbaceous field edges. More bird species, and five times as many individuals, use perimeters of corn fields than use the centers, and bird abundance decreases as field size increases.2t In fields surrounded by fence rows, trees, and shrubs, 62 different avian species were Identified; fields without fence rows could have many fewer species.22
Hedges provide nesting sites and a wide array of food resources. Increasing the size of hedges surrounding fields, and trimming hedges and ditches every other year, increased the number of bird species by 30 percent and the number of breeding territories by 400 percent on English farms.23
Conclusion
It is difficult and frightening to imagine an agricultural landscape without the naturel beauty, and the harmonious or haunting vocalizations of birds. In Iowa, for example, 94 percent of the land is farmland, 22 and ignoring the relationship of farming practices to the abundance and diversity of bird populations could prove devastating to our avian allies, our environment, and ourselves. Birds provide a sustainable source of pest control, but conventional farming practices that encourage the expansion of field monocultures and increased use of chemical pesticides jeopardize this benefit. Adopting a philosophy of sound land stewardship, including diversification of cropping schemes, smaller fields, maintenance of woodlands and fence rows, and elimination of pesticides provides a favorable and balanced habitat for avian species.
References
1. Lucia, F. 1991. Providing haven for birds is this couple's life work. In Good Tilth 1(10):12. (May).
2. "Bird talk." Organic Gardening. January, 1991. p.l2.
3. Rogers, C. and K. Freemark. In press. A feasibility study comparing birds from organic and conventional chemical farms in Canada. Technical Report Series. No. 137. Ottawa, ON: Environment Canada: Canadian Wildlife Service.
4. Grue, C.E et al. 1989. Agricultural chemicals and prairie pothole wetlands: Meeting the needs of the resource and the farmer U.S. perspective. Trans 5dth N.A Wild Nat. Res. Conf. 54:43-58.
5. Brewer, L.W. et al. 1988. Effects of methyl parathion In ducks and duck broods. Environ Toxicol Chem. 7:375-379.
6. Blus, L.J. et al. 1989. Effects of organophosphate Insecticides on sage grouse in southeastern Idaho. J. Wild Manage. 53(4):1139-1146.
7. White, D.H. and JT. Seginak. 1990. Brain chollnesterase Inhibition in songbirds from pecan groves sprayed with phosalone and disulfaton. 1 Wild Diseases 26(1):103-106.
8. Hooper, MJ. et al. 1989. Organophosphorus Insecticide exposure In hawks Inhabiting orchards during winter dormant spraying. Bull Environ Contam. Toxicol 42:651-659.
9. Robinson, A.Y. 1990. Sustainable agriculture: A brighter outlook for fish and wildlife. Arlington, VA. Izaak Walton League of America.
10. Forsyth, DJ. 1989. Agricultural chemicals and prairie pothole wetland: Meeting the needs of the resource and the farmer-- Canadian perspective. Trans. 5th N.A. Wild Nat. Res. Conf' 54:59-66.
11. Halpert, Susan, University of Idaho Extension, Perma, ID. Personal communication. November, 1991.
12. Potts, G.R 1986. The partridge: Pesticides predation, and conservation. London, U.K: William Collins Sons and Co. Ltd
13. Gremaud, G.K. 1983. Factors influencing nongame bird use of rowcrop fields. M.S. thesis. Ames, IA: Iowa State University.
14. Pain, S. 1990. Modem farming puts small birds to flight. New Scientist (August):21.
15. O'Connor, RJ. and M. Shrubb. 1986. Farming and birds. Cambridge, U.K.: Cambridge Univ. Press.
16. Best, L.B. Sustaining wildlife In agroecosystems. Leopold Letters (Fall):4-7.
17. Basore, N.S., LB. Best, and J.B. Wooley. Bird nesting In Iowa no-tillage and tilled cropland. J. Wild Manage. 50(1):1928.
18. Warburton, D.B. and W.D. Klimastra 1984. Wildlife use of no-till and conventionally tilled corn fields. Journal of Soil and Water Conservation (Sept.Oct):327-330.
19. Cacek, T. 1985. Impacts of organic farming and reduced tillage on fish and wildlife. Pp. 18~189 in Edens, T.C., C. Fridgen, and S.L Battenfield (eds.). Proc 1984 Sustainable Agriculture and Integrated Farming Systems conference. Lansing, Ml: Michigan State University Press.
20. Bryan, G.G. and LB. Best. 1991. Bird abundance and species richness In grassed waterways In Iowa rowcrop fields. Am. Midl Nat. 126:90-102.
21. Best, LB., RG. Whitmore, and G.M. Booth. 1990. Use of cornfields during the breeding season: The importance of edge habitat. Am. Midl Nat 123:84-99.
22. Best, L.B. 1983. Bird use of fencerows: Implications of contemporary fencerow management practices. Wild Soc. Bull 11(4):343 347.
23. G.W. Arnold. 1983. The Influence of ditch and hedgerow structure, length of hedgerows, and area of woodland and garden on bird numbers on farmland. J Appl. Ecol 20:731-750.
Citation for this article: Brenner, Loretta. 1991. "Organic agriculture is for the birds"., Vol. 11, No. 4, Winter 1991, pp.20 - 22.
Copyright © 1991 Northwest Coalition for Alternatives to Pesticides.
Reprinted with permission.
---
Info Request | Services | Become EAP Member | Site Map
Give us your comments about the EAP site
---
Ecological Agriculture Projects, McGill University (Macdonald Campus)
Ste-Anne-de-Bellevue, QC, H9X 3V9 Canada
Telephone: (514)-398-7771
Fax: (514)-398-7621
Email: info@eap.mcgill.ca
To report problems or otherwise comment on the structure of this site, send mail to the Webmaster