EAP Publications | Virtual Library | Magazine Rack | Search | What's new
Join the Ecological Solutions Roundtable
---
Biological Agriculture and Horticulture, 1985, Vol 2, pp 215-222 0144-8765/85 $5
1985 A B Academic Publishers Printed in Great Britain
Organic and Conventional Peach Production and Economics
John S. Rader,' Ronald H. Walser, C. Frank Williams and Tim D. Davis
Department of Agronomy and Horticulture, Brigham Young University, Provo, Utah, 84602, U.S.A.
ABSTRACT
A two year study was undertaken to compare organic peach (Prunus persica (L.) Batsch) production with conventional production. Peach trees treated with nitrogen containing fertilizers (dairy manure and CHINOS) were more vigorous, productive, and cold hardy than trees treated with an organic seaweed product or the non treated controls. Organic production inputs were more costly than conventional inputs, however, these greater costs were more than compensated for by high market prices which lead to higher net returns for organically produced peaches. A taste test found no significant preference for either organic or conventional peaches.
INTRODUCTION
Production of crops without the use of synthetically derived fertilizers, pesticides, and growth regulators (organic) has become of increasing interest to various groups for environmental and economic reasons, (CAST, 1980; Lockeretz & Wernick, 1980; Youngberg, 1980; Altieri et al., 1983). Most of the research performed on organic farming has dealt mainly with field crop production.
One of the challenging aspects of organic field crop production has been meeting nitrogen (N) requirements (Lockeretz et al., 1980). There are many sources of N that comply with the organic methodology. Most, however, are expensive, low in nitrogen, and application is laborious. One of the more common sources is animal manure and, in particular, dairy manure (CAST, 1980; USDA, 1980). Manure has been compared with chemical forms of nitrogen in studies on peaches (McCue, 1914; Proebsting & Kinman, 1933; Stark & Thorne, 1948) with generally similar benefits as long as equivalent amounts of N were applied. Plants absorb N mainly in the inorganic forms and N is made available to plants by mineralization of both the chemical and the manure N. Researchers have demonstrated that there are no apparent chemical differences in the resulting N products from either source (Heck 1931).
Some organic and conventional growers, in an effort to supply sufficient nitrogen, resort to non-traditional soil or plant additives. Many of the producers of these additives have been able to avoid state fertilizer regulations because of the non-traditional nature of their products. This non-traditional character has also led to scepticism by many in conventional practices. In most cases where researchers have evaluated these products using scientific and statistical methods, there have either been no significant increases in yield (Weaver et al., 1974; Schulte & Kelling, 1978; Dunigan, 1979) or minimal increases (Featonby-Smith & Von Staden, 1983).
Seaweed is a commonly used plant additive in organic farming. Oelhaf (1978) states that seaweed serves a variety of functions in organic farming including supplying trace minerals and plant hormones (Featonby-Smith & Von Staden, 1983), increasing yield and quality (sugar content), and some pest protection. Seaweed is generally applied as a meal, liquid drench, or spray concentrate.
Although the economics of organic field crop production have been studied extensively(Klepper et al, 1977; Berardi, 1978 ;Lockeretz et al, 1978, Oelhaf 1978; Eberle & Holland, 1979; Roberts et al., 1979; Cast, 1980, USDA, 1980 Lockeretz et al., 1981; Olsen et al., 1982),little information is available on the economics of organic horticultural crop production. In general, field crop studies have found that organic production requires lower inputs of energy and materials, but more labor, has long term benefits to the environment, and Is marketed both in traditional and specialized markets. Yields are usually lower in organic production but are compensated for by lower input cost and/or a specialized market where demand creates a higher price. This study was undertaken to compare organic and conventional peach production.
MATERIALS AND METHODS
The two-year study was conducted in a ten-year old 'Burbank July Elberta' peach orchard planted at a density of 445 trees/ha in Mapleton, Utah, USA. Cultural practices in the orchard during the previous 6 years had followed recommended organic practices. The soil type in the orchard is a well-drained sandy loam. The main fertilizer applications and pest control tactics had involved 3 or 4 yearly applications of the seaweed product used in this study In the present study, each treatment was applied to ten randomly-distributed trees in both 1981 and 1982. All of the trees were pruned, thinned, and irrigated following accepted cultural practices.
Fertilizer Study. The conventional fertilizer treatment consisted of one application each year of 572 kg/ha (194 kg N) of NH4NO3. One organic treatment consisted of one application each year of 38 metric tons/ha (approximately 200 kg N) of well-rotted dairy manure, while the second treatment followed the manufacturers recommended rate of four foliar applications/year (127 liters/ha--approximately 2 kg N) of "Shur-Crop", a seaweed product manufactured by Hi-Bar, Ltd. The NH4NO3. and manure were applied in April of each year by hand and spread evenly under the drip line of each tree. The control received no fertilizer.
Trunk circumferences were measured initially in the spring of 1981 and again in the spring of 1983. Annual shoot growth was measured on ten random shoots from each replication. Yield comparisons were made each year. Random samples of 20 peaches from each tree were weighed to determine fruit weight.
Leaf samples were collected in early August 1982 and analyzed for nutrient content. The air-dried samples were ground on a Wiley Mill to pass a 20 mesh screen. The N and P concentrations were measured on a Technicon Auto Analyzer II following digestion by the Kjeldahl method. The analyses for K, Ca, Mg, Fe, Mn, Cu. and Zn were performed by the perchloric wet ash procedure described by Johnson & Ulrich (1959) and then concentration determinations were made on a Perkin-Elmer Model 5000 Atomic Absorption Spectrophotometer.
Pest Control. During the 1981 season both conventional and organic pest control treatments were applied to the respective trees; however, pheromone insect traps and visual inspection of the trees and fruit indicated that insect and disease damage was low enough to eliminate application in 1982. Pest damage was minimal and similar on all treatments in 1982.
Cold Hardiness. In 1981 shoots containing at least 100 fruit buds were collected from each treatment in late December and tested for cold hardiness utilizing the freeze chamber (To) procedure described by Proebsting & Mills (1966). Also, the winter of 1981 82 provided an excellent in-field test as the temperature during January, 1982 dropped to approximately 26°C in the orchard.
Taste Test. Three groups of horticulture students totaling 34 individuals performed a taste test. Two replications were made for each group. Peaches of similar maturity were selected from each treatment and unidentified peach samples from each treatment were given to the students without explaining the purpose for the test. The samples were rated for sweetness, texture and overall quality.
Market Economics. The manure was obtained from a local dairy at a cost of $11.00 U.S. per metric ton while the NH4NO3 cost $.26/kg, and the seaweed product cost was $3.70/liter. The market prices for the peaches were determined by surveying growers, wholesalers and retailers in the states of California, Washington, and Utah. The retail prices for a growers premium pack were used. The yield from each plot was extrapolated to a per hectare basis and then combined with the appropriate organic or conventional prices. Special note was taken of the outlets and consumers of the two types of produce. Pesticide costs were not included because there was no need for treatment.
RESULTS AND DISCUSSION
Those trees which received the highest amounts of N (manure and NH4NO3) had the greatest growth and yield (Tables I and 2). Growth and yield of trees treated with the seaweed product were not different from the controls. Even though the manure N is more slowly available (Heck, 1931) comparable growth can be achieved during the first two seasons after application through both organic and conventional methods if sufficient N is applied, which is in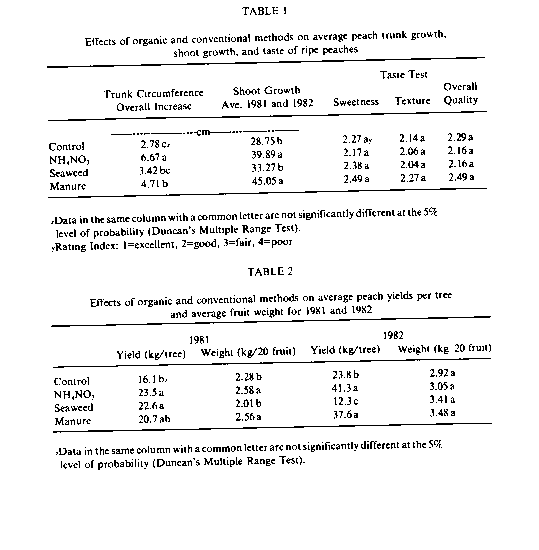 agreement with previous findings (Stark & Thorne, 1948). The total yield in 1981 was variable, but N did increase peach size. During both years, the fruit from the control and seaweed treatments ripened 3-4 days earlier than fruit from the two N treatments, but fruit color at harvest maturity was not affected.
The foliar analysis (Table 3) for N shows higher concentrations of N in the leaf tissues of the CHINOS and manure treatments. Where NH~NO~ was applied there were increased levels of Fe and Mn; however, P levels were decreased. The seaweed application had no significant effect on N levels but did increase levels of P. Zn, and Mn compared to controls. The increased Zn concentration in the foliage may have resulted directly from the seaweed applications, since the product does contain some Zn, but the increased P concentration was most likely due to the very low N which normally results in higher P.
In December of 1981 the manure and NH4NO3 treatments had T50 temperatures of -21.7° C and -21.1° C respectively. These 50 temperatures, however, were not significantly different from the control at -20.6° C and the seaweed at -20.3°C. Although these To differences were not statistically significant (5% level) they did seem to reflect actual differences in cold hardiness in the field in 1982. A visual examination of flower buds following the severe cold temperatures in January showed 5, 10, and 18% live buds on the seaweed, control, and NH4NO3 and manure treatments, respectively. Control and seaweed treated trees were very weak and considerable visual winter damage to wood and buds was evident during the summer of 1982. The bloom and fruit set was heavy on both the NH4NO3 and manure treatments and thinning was needed. The taste test showed no differences in flavor, texture or quality between treatments (Table 1).
The cost of conventional production was the least. In spite of the highest yields for both years (Table 2), the retail gross return for conventional production was the lowest in 1981 and second to the lowest in 1982 (Table 4).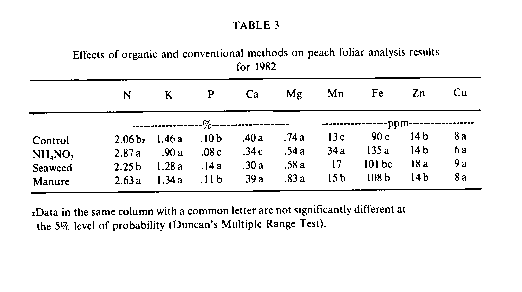 There was a considerable difference in retail prices as organic peaches retailed for $ 1.65/ kg and $ 1.85/ kg in 1 981 and 1982, while the conventional price was the same for both years at $0. 70/ kg. The survey indicated that premium prices for organic peaches had been received during at least the last ten years and growers and wholesalers expected this to continue in the foreseeable future. This organic price more than compensated for the higher fertilizer costs. Some growers who did not apply fertilizer or chemicals of any kind to their trees (similar to our control) marketed their fruit as organic. This method results m a short term high profit. In the long term, however, orchard longevity would most likely be greatly decreased and subsequent yield would be very low.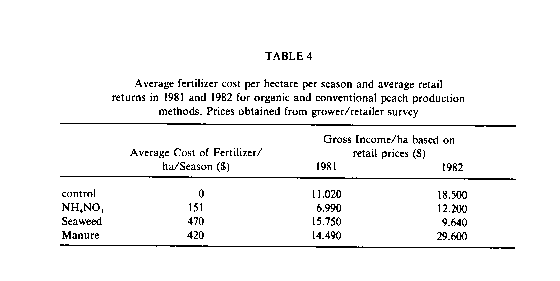 Organic produce has a speciality demand from consumers with health and environmental concerns. The survey of retailers and consumers indicated that this demand was somewhat insensitive to price. It was also learned in the study that the organic market is larger than most conventional growers might expect. The survey located five organic wholesale distributors in the western U.S. states and also many growers who retail directly from their orchards to local and distant consumers.
In conclusion, productive and economic organic peach production is feasible as long as substantial amounts of N are supplied. Dairy manure was found to fulfil this need. Most organic N sources are relatively expensive and often difficult to acquire. However, as long as organic market prices remain high, the high cost of organic N will be more than compensated for by high net returns. Seaweed foliar sprays did not supply necessary nutrients to adequately assure vigorous trees and high yields probably due to the lack of sufficient N. The high cost of the seaweed product coupled with low yield does not appear to justify its usage over a traditional organic fertilizer such as manure. The conventional method (NH4NO3) met the N requirements but fruit prices were much lower in the conventional market.
ACKNOWLEDGEMENTS
The authors wish to express appreciation to Dr. Schuyler Seeley, Utah State University, for performing the T50 tests on the peach flower buds. The use of trade names in this publication does not imply endorsement by Brigham Young University.
References
Altieri MA, Davis. J. & Burroughs, K. (1983). Some agroecological and socioeconomic features of organic farming in California. A preliminary study. Biological Agriculture and Horticulture, 1, 97-107.
Berardi, G.M. (1978). Organic and conventional wheat production: examination of energy and economics. Agro-Ecosystems, 4, 367-376.
Council of Agricultural Science and Technology (CAST). (1980). Report No.84. Ames, Iowa.
Dunigan, E.P. (1979). Microbial fertilizers, activators, and conditioners: A critical review. Developments in Industrial Microbiology, 10, 311-322.
Eberle P. & Holland, D. (1979). Comparing organic and conventional grain farms m Washington. Tilth. Spring Issue. pp. 30-37.
Featonby-Smith, B.C. & Von Staden, J. (1983). The effect of seaweed concentrate and fertilizer on the growth of Beta vulgaris. Zeitschrift fur Pflanzenphvsiologie' 112, 155-159.
Heck, A.F. (1931). The availability of the nitrogen in farm manure under field conditions. Soil Science, 33, 467-481.
Johnson, CM & Ulrich, A. (1959).11. Analytical methods for use in plant analysis. California Agricultural Experiment Bulletin No. 766. pp. 30-33.
Klepper, R., l,ockeretz. W., Commoner, B., Gertler, M., Fast, S., O'Leary, D. & Blobaum, R. (1977). Economic performance and energy intensiveness on organic and conventional farms m the Corn Belt: A preliminary comparison. American Journal of Agricultural Economics, 59,
Lockeretz, W"Shearer,G. & Kohl, D. H. (1981).0rganic farming in the Corn Belt .Science ,211, 450-547.
Lockeretz, W., Shearer G.'Klepper, R. & Sweeney, S. (1978). Field crop production and organic farms in the Midwest. Journal of Soil and Water Conservation, 33, 130-134.
Lockeretz, W., Shearer, G., Sweeney, S., Kuepper, G., Warner, D & Kohl, D.H. (1980). Maize yields and soil nutrient levels with and without pesticides and standard commercial fertilizers. Agronomy Journal, 72, 65-72.
Lockeretz, W. & Wernick S. (1980). Commercial organic farming in the Corn Belt in comparison to conventional practices. Rural Sociology, 45, 708-722.
McCue,C.A.(1914),A fertilizer experiment with peaches.Proceedings of the American Society for Horticultural Science, 11, 86-91. as.
Olsen, K.D., Langley J. & Heady, E.O. (1982). Wide-spread adoption of organic farming practices: Estimated impacts on U.S. agriculture.Journal of Soil and Water Conservation, 37, 41 -45.
Proebsting, E.L. & Kinman, C.F. (1933). Orchard trials of N and P. Proceedings of the American Society for Horticultural Science 30, 426-430.
Proebsting, E.L. Jr. & Mills, H. H. (1966). A standardized temperature survival curve for dormant Elberta peach fruit buds. Proceedings of the American Society, for Horticultural Science 89, 85-89.
Roberts, K.J., Warnken, P.F. & Schneeberger, K.C. (1979). The economics of organic crop production in the Western Corn Belt. Agricultural Economics Paper No. 1979-6, Dept. of Agricultural Economic, Univ. of Missouri, Colombia.
Schulte, E.E. & Kelling, K.A. (1978). Regional results with the use of non-traditional soil and plant additives. Proceedings of the Fertilizer and Agricultural Limestone Conference, 17, 8889. Department of Soil Science, University of Wisconsin, Madison.
Stark, A.L. & Thorne, D.W. (1948). Peach orchard soil management studies. Utah Agricultural Experiment Station Bulletin, 330. 27 pp.
United States Department of Agriculture. 1980. Report and recommendations on organic farming. U.S. Department of Agriculture, Washington, D.C.
Weaver,R.W.,Dunigan,E.P.,Parr,J.F.&Hiltbold,A.E.(1974),Effect of two soil additives on crop yields and activities of soil micro-organisms in the Southern United States. Southern Cooperative Series Bulletin, No. 189. 24pp.
Youngberg, G. 1980. Organic farming. Journal of Soil and Water Conservation, 35, 259-264.
(Resealed 8th March 1984)
Copyright © 1984 A B Academic Publishers. Reprinted with Permission. All rights reserved.
---
Info Request | Services | Become EAP Member | Site Map
Give us your comments about the EAP site
---
Ecological Agriculture Projects, McGill University (Macdonald Campus)
Ste-Anne-de-Bellevue, QC, H9X 3V9 Canada
Telephone: (514)-398-7771
Fax: (514)-398-7621
Email: eapinfo@macdonald.mcgill.ca
To report problems or otherwise comment on the structure of this site, send mail to the Webmaster