EAP Publications | Virtual Library | Magazine Rack | Search | What's new
Join the Ecological Solutions Roundtable
---
Winter Cereals in Western Canada
J.G. McLeod, Agricultural Research Station, Canada Agriculture, Swift Current, Saskatchewan
Fall planted cereals can play an important role in farm practices in Western Canada. Winter cereals are seeded in late August and early September. This operation may conflict with the harvest of spring sown crops; however, problems that occur at the seeding time of spring sown crops may be eliminated (late seeding due to cool, wet spring conditions). Winter cereals usually mature about two weeks before spring cereals, thus allowing an early start to harvest. Early maturity also means that winter cereals suffer less from late June and early July drought and early fall frosts.
If winter cereals can be overwintered successfully, they will usually have a 20 to 30% yield advantage over their spring planted counterparts.
A major role of winter cereals has been in the protection of light soils against wind and water erosion. Because of fall establishment their roots and leaves help to anchor the soil. Winter rye is usually used for this purpose as areas subjected to wind erosion are often free of snow when winter temperatures are lowest. Winter wheat does not have sufficient hardiness to withstand the Prairie winter without snow cover.
Early maturity of winter cereals reduces the risk of their being lost due to rust. Each year the rust must be reintroduced from Southern areas and the winter crops will usually mature before the disease has built up to levels that cause economic losses.
Because winter cereals establish in the fall and begin growth very early in the spring they compete very well with spring annual weeds such as wild oats, provided thinning of stands has not occurred due to winterkill. Winter annual weeds, especially stinkweed and flixweed, and perennial weeds such as thistles have a growth period coinciding with that of winter cereals. These weeds must be controlled with herbicides. Usually a fall application of a herbicide such as 2, 4-D will give excellent control of winter annuals.
Winter cereals, especially rye, have good potential for forage production - both for grazing and hay. Good early season grazing can be obtained from fall rye (May and June). For best results it should be stocked heavily for short periods of time. In many areas fall rye is cut for emergency hay supplies.
Throughout the three prairie provinces about 400,000 hectares are seeded to winter cereals annually. Three-fourths of this area is seeded to winter rye. Rye is generally adapted to the Prairie region, however, it is grown mostly on light, sandy soils where wheat is less productive. Rye production, therefore, is concentrated in Southwestern Manitoba, Southern Saskatchewan, and Southern and Central Alberta. Manitoba, Saskatchewan and Alberta have 15, 50 and 35% of the area seeded to fall rye, respectively.
Winter wheat, on the other hand, is limited because of its lack of cold tolerance to a small area in Southwestern Saskatchewan and another area in Southern Alberta. Of the 100,000 hectares of winter wheat grown, about 85% is located in the Lethbridge area. For comparison, in 1979 there were 9.0, 3.5, 1.3 and 1.1 million hectares of spring wheat, barley, oats and durum wheat, respectively.
Although winter cereals appear to hold the answers to many farming problems there is limited production. There are three major reasons why winter cereals are not used to a greater extent than they are at present:
1. Winter survival is not dependable, especially for winter wheat. Winter crops may be lost due to lack of cold tolerance (especially winter wheat), desiccation, flooding, ice crusting and disease ("snow molds"). Winter survival may be affected by cultural practices as well as the inherent ability of the crop to withstand the various winter hazards it is subjected to.
2. Quality - presently available cultivars of rye produce grain that is less palatable and less digestible than other energy grains for livestock and poultry. In addition, rye when used in distilleries results in reduced throughput (stable foam forms in fermentation tanks and they cannot be filled to capacity and distillation columns are plugged with gum like material).
3. Market outlets are limited because of problems related to survival and quality (above). Winter wheat is graded as hard red winter wheat. In export markets it is in competition with American hard red winter wheat. In these markets it is used mainly for milling into bread flour. In domestic markets it is occasionally milled into cracker, cookie, biscuit and pastry flour. Only small amounts are required in domestic markets. Acreages of winter wheat are not likely to increase greatly until it can survive the prairie winter more reliably.
About one third of the rye crop is sold in export markets where it is used mainly for milling. Supplies for this market are erratic because of variation in sprouting damage from year to year. The major domestic use is in livestock feeds with lesser amounts being used in distilleries. Utilization in these markets is limited because of as yet unidentified quality characteristics of the grain.
What is the future of winter cereals in Western Canada? Winter wheat production is unlikely to expand greatly from its traditional areas unless winter survival becomes more reliable.
Increased winter survival may be achieved by breeding for cold tolerance and disease resistance and/or by management of the crop.
Winter wheat varietal development in Western Canada has been centred at the Agriculture Canada Research Station at Lethbridge. Breeding efforts have resulted in improvements in agronomic characteristics such as resistance to diseases, lodging and shattering as well as increased yielding ability. However, little advance has been made in improving the inherent ability of the crop to withstand cold temperatures. The variety, Kharkov 22 M.S., which was licensed for sale in Canada previous to 1923, is nearly as winter-hardy as Norstar which was licensed in 1976 (Norstar does, however, have a significant yield advantage over Kharkov M.C. 22). At present, it appears that the genetic variation available to improve winter survival potential has been almost exhausted in the common wheats. It has been estimated that an intensive breeding effort could achieve no more than a 15% increase in field survival potential over that of Norstar.
Adequate cold hardiness does exist in species closely related to the wheats. For example, winter rye is much hardier than winter wheat. These species can easily be hybridized and the potential to increase the cold hardiness of winter wheat in this way is being examined. Results to date, with wheat-rye hybrids, have not been encouraging. The most cold hardy wheat-rye hybrids are no hardier than the winter wheat parent. In addition to the loss of cold hardiness of rye there are also detrimental effects on the kernel characteristics (shrivelling, low density). Improvement of winterhardiness of wheat by genetic means does not appear to be in the forseeable future.
More immediate possibilities to expand winter wheat production out of its traditional area are available. At present, these possibilities are at the research stage. Much of the research is aimed at the development of a set of management practices which will utilize the stubble of the previous crop to trap snow. If sufficient snow is trapped, the inherent level of cold hardiness required may be significantly reduced as soil temperature is generally 1°C warmer than air temperature for each centimeter of snow cover. For best results, seeding must be done as near to September 1st as possible, directly into standing stubble with a minimum amount of disturbance of the stubble. Because the stubble must remain standing, and conditions of heavy trash cover and hard soil often prevail, special equipment is required for the seeding operation. The hoe press drill or zero-till drills have given good results under these conditions.
In northern areas of Saskatchewan seeding into standing stubble has proven quite successful for several years. At Swift Current, results obtained in 1979 were very encouraging. However, in southern areas of the prairies, stubble soils may frequently be very dry and result in much reduced germination.
In some years, loss of winter cereals may be due to a lack of resistance to organisms called "snow molds." These low temperature tolerant fungi may be active before, during and after melting of snow. However, the effects of snow molds seem to be greatest on rye crops which may be related to the distribution of the latter. If winter wheat production expands in the parkland regions, where snow cover is generally deeper and more prolonged, the damage from snow molds could be much greater. A general pattern of distribution derived from recent surveys and past records is given in Table 1. This pattern may shift considerably under seasonal influences. Most of the same fungi are found in Eastern Canada. While a start has been made to find sources of genetic resistance to the major snow molds in fall rye, the effort is not yet as intense as that in Fenno-Scandia and Eastern European countries. Greater cold hardiness is required to suit Canadian conditions.
Much of the research directed at varietal development of the rye crop has been centred at the Swift Current Research Station and Universities in Western Canada. Since 1964, four new varieties have been developed with improved winter-hardiness, yielding ability, kernel weight, lodging resistance and shattering resistance. Agronomic traits such as shattering resistance require further improvement. There is no resistance to the ergot fungus which can be severe under certain conditions. In addition, resistance to harvest time sprouting would be a desirable trait to add to any new cultivar of winter rye.
However, winter rye production will not likely expand until a solution is found to the problems associated with its utilization in livestock and poultry feeds and in distilleries. In the past, the poor utilization of rye by livestock has been attributed to the presence of ergot, phenolic compounds, trypsin inhibitors, physic acid, rachitogenic factors and mycotoxins (from storage fungi) in the grain. Results of recent experiments have led researchers to discount partially or completely all of the above factors.
Experiments have shown that the antinutritional factor(s) is water extractable. Currently, research is being conducted to further elucidate the nature of the problem. Eventually, it may be possible to breed cultivars of rye with reduced levels of the antinutritional factor.
Although winter cereals have many potential advantages, the extent of their cultivation is limited due to agronomic and quality factors. Winter wheat survival must be more reliable before production expands out of the traditional winter wheat area. Factors causing poor utilization of rye must be identified and eliminated before production will increase. If in the future winter cereal production expands into the Northern Prairies the problem of "snow mold" diseases could be much more serious.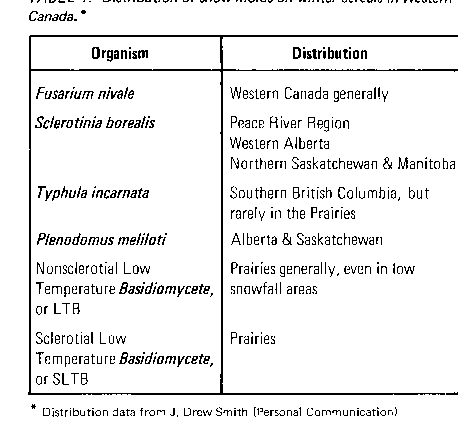 Publications Containing Additional Information
1. Rye Production in Saskatchewan. 9pp. Available from Saskatchewan Agriculture, Administration Building, Regina, Saskatchewan.
2. Winter Cereal Production in Saskatchewan. 12pp., 110/00. Available from Extension Division, University of Saskatchewan, Saskatoon, Saskatchewan.
~. Fall Rye Production. 23pp., 117/10. Available from Alberta Agriculture.
4. Winter Wheat Production in Western Canada. No. 1056, 10pp. Available from Information Services, Agriculture Canada, Ottawa, Ontario, K1A 0C7.
Copyright © 1980
---
Info Request | Services | Become EAP Member | Site Map
Give us your comments about the EAP site
---
Ecological Agriculture Projects, McGill University (Macdonald Campus)
Ste-Anne-de-Bellevue, QC, H9X 3V9 Canada
Telephone: (514)-398-7771
Fax: (514)-398-7621
Email: eapinfo@macdonald.mcgill.ca
To report problems or otherwise comment on the structure of this site, send mail to the Webmaster