EAP Publications | Virtual Library | Magazine Rack | Search | What's new
Join the Ecological Solutions Roundtable
---
Designing Apple Trees to Capture Sunlight Energy for Producing Money Sized Apples
Author: Joseph Costante
Journal: "The Apple Press" published by the University of Vermont vol 18, no 1, pp. 9-10
No matter where you are producing apples or how you are marketing the crop, the present top priorities in this business are larger-sized, well-conditioned, crunchy, and flavorful apples. Although there are vast differences around the country on growing apples, two essential ingredients that orchard operations must possess are:
1.) consistently productive sites and
2.) profitable management capabilities, especially in tree design.
When executing tree design programs, consider integrating the necessary pruning steps based on the amount of sunshine and cumulative heat units available during the growing season. Following is a perception on how you might direct tree design efforts to produce quality apples in different climates.
Factors Affecting Tree Design
Maintaining profitable orchards in northern latitudes has become increasingly difficult with the advent of high density plantings. Consider that there are only a limited but critical number of sunny days, cool pre-harvest nights and necessary heat units available in any one year. Rain fall in many areas is not as abundant as it once was, while premium orchard sites are few and far between (more keep falling prey to development). Such stressful conditions mean that you must extract every possible advantage from your orchard.
Southern or warmer apple areas are blessed with more than adequate sunshine and heat units. Training and pruning practices must focus on protecting fruit against sunscald injury and maintaining an adequate water supply in all tree parts.
Growers in other areas can combine and extrapolate the information they need from the following. No matter where you grow apples, it boils down to the fact that the size and shape of your trees are what determine the efficiency and benefits provided by sunlight. Obviously, properly designed dwarf trees will make the most efficient use of sunlight as demonstrated in Figure I (taken from the manual, "Training and Pruning Apple Trees. by C.G. Forshey, D.C. Elfving, and R.L. Stebbins, ASHS, 1992).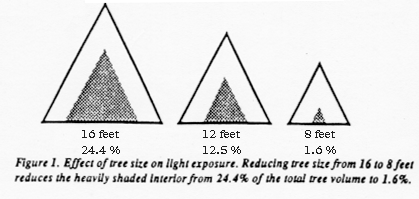 Orchards in Northern Latitudes
A word to the wise, do not overplant your acreage and be left with too little sunlight and a massive shading problem. Shade is the enemy of quality fruit production. High density plantings are fine but allow enough space and design your trees properly to take full advantage of whatever light is available, while reducing the effects from shade.
Step two, you cannot afford to crowd the structure of any apple tree with too many branches (a trend in recent years). You cannot afford to grow apple trees that do not take on a conical shape featuring shorter branches in the top versus the bottom. The only objective in fresh market apple production is to achieve a consistent optimum volume of quality fruit. If you don't pay attention to either the number nor balance of scaffold branches when pruning, and crowd trees with too many branches, then you are more likely to end up producing large tonnages of less profitable, poorer quality apples.
A well-balanced number of branches (with the assistance of good thinning and nutritional programs) will likely produce larger and superior colored apples. The problem of fruit condition is harder to solve because it is impacted by a number of variables that create a different result each year. But it will be easier to achieve two priorities (color and size) out of the three by not over-stocking trees with branches.
As senior pomology technician, Jon Clements, will show in the following articles, you need to get as much sunlight energy interacting throughout the tree's canopy as you can. Once again, the emphasis is to achieve better production results with a proper number of branches (rather than to many). Jon's current thesis work also shows advantages in fruit quality and returns associated with more appropriately shaped McIntosh trees.
Any discussion or program involving tree design factors automatically includes the importance of sunlight. Therefore, if the sunlight or diffuse light is a limiting factor in your orchard, the shade conditions in the orchard have to be held to a minimum.
While pruning, observe the percentage and location of larger quality fruit spurs/buds. This information will tell you how well light is diffusing within the canopy and where you need to concentrate fine-tuned pruning efforts. The same could be said about tree designs being pursued in southern latitudes.
Orchards in Southern Latitudes
Obviously pruning and training techniques take on a different aspect when faced with a superior sunlight/heat unit environment. It becomes difficult and costly to achieve a proper balance between vegetative tree requirements and fruit quality when faced with potential sunscaId injury. Achieving the benefits from sunlight while avoiding sunscaId damage and drought stress are not easy to resolve.
Non-red cultivars should be managed to carry more branch structure which can be crafted to create enough shade on the outer canopy to avoid scalding fruit (or use overhead sprinkler irrigation). Diffuse light is necessary to produce quality spurs and apples on the inside canopy especially in the lower half of the tree. (Cultivars and management rules are much different than those in northern regions.)
"Tight"conical-shaped tree forms, like the spindle, are not favored but instead, a more rectangular design for posted and free-standing trees or designs based on various trellis formats. In a very sunny and hot environment, popular opinion favors trellis systems coupled with overhead evapo-irrigation.
---
Info Request | Services | Become EAP Member | Site Map
Give us your comments about the EAP site
---
Ecological Agriculture Projects, McGill University (Macdonald Campus)
Ste-Anne-de-Bellevue, QC, H9X 3V9 Canada
Telephone: (514)-398-7771
Fax: (514)-398-7621
Email: eapinfo@macdonald.mcgill.ca
To report problems or otherwise comment on the structure of this site, send mail to the Webmaster