EAP Publications | Virtual Library | Magazine Rack | Search | What's new
Join the Ecological Solutions Roundtable
---
Occurrence & Control of Apple Pests in Maine
BY JEAN ENGLISH AND ERIC SIDEMAN
In the last MOF&.G. we outlined the occurrence and control of vegetable pests in Maine. We continue with apple pests (and some predators) In this issue. and will cover pests of other fruits and of ornamentals to future issues.
The dates of appearance are taken from the University of Maine Cooperative Extension Service publication. Bug Reporter, from 1987 through l990 Controls for pests that commonly become mayor problems are listed in the right-hand column by Eric Sideman. MOFGA's director of technical services.
This chart is not complete--it represents reported incidences of these pests throughout Maine. Use it as a guide and nil it with your own observations. It should help you anticipate when pests will appear in your orchard each year.
For more detailed Information about these or other pests. call Eric Sideman at the MOFGA office. MOFGA's fact Sheet on Organic Apple Crowing can also help you. It Is available for $.50 (members! or $1.50 (non-members! from the MOFGA office.
Please note that while some of the pesticides mentioned are organic, they can be toxic to humans. Be sure to handle them as directed on the package. Although they break down very quickly, they are still environmentally harmful to some extent. And be sure not to spray anything when bees are pollinating.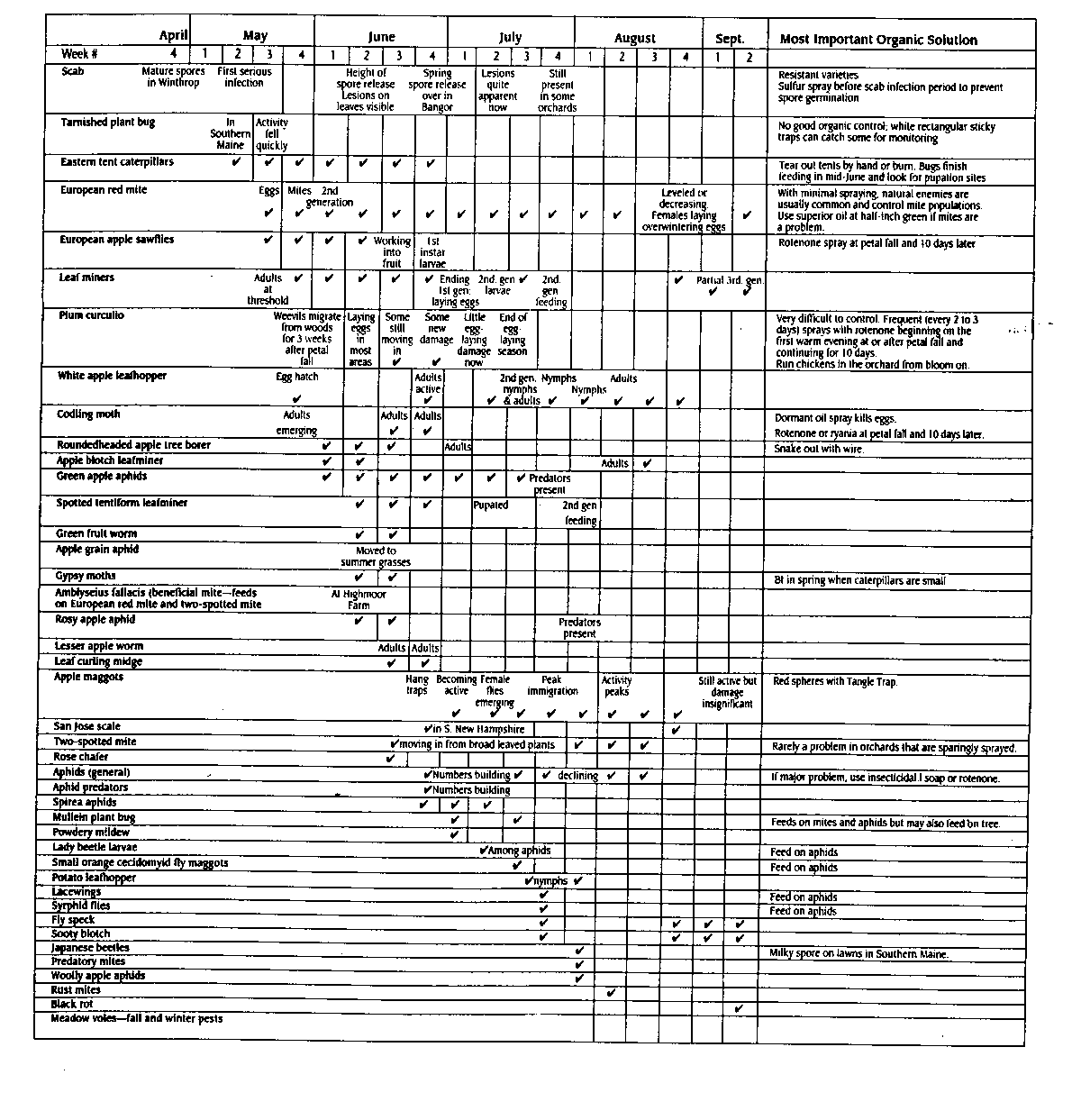 Copyright © 1991 Maine Organic Farmer & Gardener. All rights reserved.
---
Info Request | Services | Become EAP Member | Site Map
Give us your comments about the EAP site
---
Ecological Agriculture Projects, McGill University (Macdonald Campus)
Ste-Anne-de-Bellevue, QC, H9X 3V9 Canada
Telephone: (514)-398-7771
Fax: (514)-398-7621
Email: eapinfo@macdonald.mcgill.ca
To report problems or otherwise comment on the structure of this site, send mail to the Webmaster